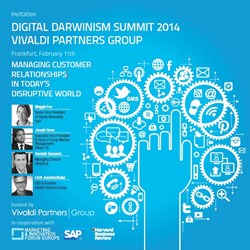 Digital Darwinism does not affect a few industries, but all of us.
New York, NY (PRWEB) February 20, 2014
Vivaldi Partners Group, a strategic consulting firm that specializes on brand strategy, innovation and marketing and includes a digital and experience agency, kicked off the Marketing Innovation Forum Europe on February 11th with the annual summit on Digital Darwinism. As a leader in growth strategy consulting, Vivaldi Partners Group explored how the new digital and social environment is changing customer relationships. Along with SAP and Harvard Business Review, Vivaldi hosted 300 marketing executives at the renowned "Palmengarten" venue in Frankfurt, Germany.
The Vivaldi Digital Darwinism provides a spotlight on the challenges and opportunities of the increasing digitalization across industries and companies. Every industry, every company and every brand feels the disruptions in customer behavior and needs to adapt fast to survive in this environment. These topics are what made the Digital Darwinism Summit so relevant for its participants.
Some of the thoughts the keynote speakers shared included:
Maggie Fox, Senior Vice President Digital Marketing at SAP, shared that, "In a B2B environment we often forget that there are humans at the other end too." Fox spoke on the changing role of marketers and data-driven analytics in managing future customer relationships. Successfully turning data into marketing action would require a blend of different skills that span across the traditional boundaries between Marketing, Technology and Data Science. Fox's ideal breakdown for working with data is 15% data capture, 20% data reporting and 65% data analysis. With it, marketing has an unprecedented opportunity to drive real business value.
Joseph Gross, Allianz SE's Head of Group Market Management, explained that the "Digital Transformation is 80% business model transformation and 20% marketing effort." Gross shared real-life insights from the Digital Transformation taking place in the insurance industry and at Allianz globally. One of the largest challenges in digital transformation will be the seamless integration of all processes of the insurance business model to allow for a superior customer experience. Gross explained the "Digital revolution will impact the entire value chain. We will need to turn the customer experience upside down and roll out and adapt best practice learnings - country by country."
Dominik Dommick, Managing Director of PAYBACK, advised to "Leverage data the smart way: Better understand omnichannel consumers, make more relevant offers and refrain from 'overfishing' them." Dommick explained that retailers' customer relationships today are becoming very much akin to the neighborhood shops of past, only with millions of customers. The key question for PAYBACK and others is how to create value from the knowledge (data) about these customers. Customers today are not only digital, but multichannel, across mobile, online and classic brick-and-mortars. The key is to combine all data- the online and the offline – with full transparency to create true relevance for customers.
Erich Joachimsthaler, CEO and Founder of Vivaldi Partners Group, proclaimed that "the power of information at the hands of consumers is what makes the world so disruptive for marketing." Joachimsthaler said, "Digital Darwinism does not affect a few industries, but all of us." He clearly pointed out that it is not technology that disrupts the market space, but consumers and their changing behavior. The customer relationship is the main disruptive force. In his presentation, he also spoke about marketing to the consumer of the future, which can be glimpsed by understanding today's Always-On Consumer. The Always-On Consumer already comprises 48% of the adult population currently, as shown in the newly released Vivaldi Always-On Consumer 2014 Study.
More details from the speeches and further videos, photos and presentations will be shared shortly on the Vivaldi Partners Group blog (http://www.vivaldipartners.com/blog).
About Vivaldi Partners Group
Vivaldi Partners Group (http://www.vivaldipartners.com) is a global firm that unlocks innovation and growth opportunities for brands and businesses in a digitally connected world. Vivaldi Partners Group uses its expertise in strategy, innovation, marketing, and organization to identify new demand-based opportunities, build strong brands, create and realize engaging experiences, and lead change through the development of people. Vivaldi Partners Group comprises of Vivaldi Partners, Fifth Season, a digital, design and technology agency, and E-Edge.