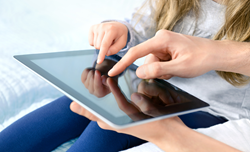 When looking at an education website, it's really important to engage on every level, from the pupils to parents, staff and wider governing bodies.
Colchester, Essex (PRWEB UK) 24 July 2014
Surprisingly, it's not just the teenagers that are computer savvy. New data from Futuresource Consulting shows that 44% of UK children between the ages of three and 12 now own a tablet device, with 30% of those in the toddler age range of three to four.
As we move upwards in age, the smartphone becomes the device of choice and we see 25% of all nine to ten year olds owning one, rising to 46% for 11 to 12-year-olds. By the time we get to 16 to 24 year-olds, the proportion owning a smartphone is 77%, with the average UK consumer now owning 5.4 portable devices.
There is a clear message here for the education sector: paper engagement is a thing of the past, and if you want to reach and connect with your audience, digital communications are the way forward and your website is an important investment.
According to Alex Ward, Head of Digital at award winning website design agency Zero Above, technology is at its best when planned effectively. "The key to getting it right is to focus on your users," says Alex. "It's really important to engage on every level, from the pupils to parents, staff and wider governing bodies."
"Who are your audiences? Age, gender and cultural diversity play a big role in establishing the type of interaction you are designing for. Doing the initial research to get this right is hugely important; technology can do almost anything but if your users aren't engaged, it's a waste of time."
With ever-increasing constraints on resources in the education sector, being able to automate tasks and create paperless information streams can be valuable in looking at the cost-effectiveness of a website. Having forms online for download, creating real-time news announcements and posting events calendars, key information and timetables online and managing payments online can save valuable resources such as administration time, paper and print and alleviates the issue of lost forms.
In the wider picture, a well-designed website can do much more, as Alex explains: "Technically you can do almost anything, from managing online payments for school meals and activities to creating online forums and interactive homework portals. School announcements can be made via the website and delivered by email, MMS and SMS, with real-time tracking on who has received and actioned messages."
There has been widespread concern about the security of interactive websites in the education sector and Alex says this is an important aspect of initial planning. "Access is key, so we look at varying access levels and overall security in the initial planning stages. Alongside the visible website presence, we can add multiple layers of security for staff access, online payments and access restricted documents. We use incredibly resilient protection measures that offer far enhanced security than a locked filing cabinet in a school office."
To find out more about a website for your nursery, school or college contact Zero Above on 01787 267 949 or visit http://www.zeroabove.co.uk.
About Zero Above:
Zero Above is a multi-award-winning, Essex-based sustainable design agency which has been carbon-balanced from its creation two and a half years ago. Set up by its working partners, each sharing a vision for sustainable business, the agency offers comprehensive services for brand and marketing strategy, digital marketing, design and print, web design and development, exhibition and signage, and of course mobile App development.
Zero Above approaches every project as a unique piece of work for its clients, and with the skills, commitment and experience in the team, they are able to offer a multi-disciplinary service designed to deliver great results every time.
"We call it Develop-Design-Deliver - and we can deliver the whole process from start to finish, or any stage in isolation depending on your needs."
Visit http://www.zeroabove.co.uk or tweet @zeroabove for further information.
Carbon Monitoring App (CMA):
This innovative business tool was developed by Zero Above in order to create something completely unique that no other agency had done before, while at the same time spreading their sustainable business philosophy across the UK.
Under the ethos of "so simple an adult could use it, so engaging a child would want to", the App allows businesses of all shapes and sizes to monitor and improve their carbon footprint. This in turn will assist in:

Improving efficiency and streamlining processes
Achieving competitive advantage
Managing risks and liabilities and complying with environmental legislation
Attracting socially responsible investment
Improving communication with employees, customers, investors, regulators and others
Reducing emissions and cutting costs
Quick and easy to use, the Carbon Monitoring App focuses on the three key areas of home, work, and travel, while also providing useful tips on improving your carbon footprint. After checking your energy usage, you can track how you're doing and even share it via Facebook, Twitter and LinkedIn.
Download the Carbon Monitoring App now from the Apple App Store or Android Marketplace, or visit http://www.zeroabove.co.uk for more information.