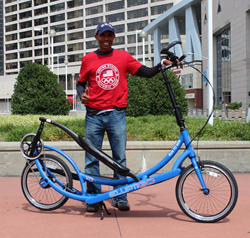 We were proud to support Meb in his journey to Boston and wanted to honor the significance of his victory with a special ElliptiGO bearing his name.
San Diego, CA (PRWEB) July 07, 2014
ElliptiGO Inc., creator of the world's first elliptical bicycle, today introduced the limited-edition "Meb 8S" ElliptiGO® for sale. In April, ElliptiGO athlete Meb Keflezighi became the first American to win the Boston Marathon since 1985, and is now the only person to have ever won an Olympic medal (2004), the New York City Marathon (2009), and the Boston Marathon. In celebration of his exceptional running career and in recognition of the impact his Boston win had for the entire country, ElliptiGO has released this special patriotic-themed edition bearing Meb's name and his motto "Run To Win."
"We were proud to support Meb in his journey to Boston and wanted to honor the significance of his victory with a special ElliptiGO bearing his name," stated Brent Teal, Co-Founder of ElliptiGO. "To do that, we've brought the hugely popular 8S model out of retirement and created this unique red, white, and blue design to highlight his victory in Boston on Patriot's Day."
The 8S was the original ElliptiGO model and offers a versatile eight speeds, carbon fiber drive arms, and a folding steering column. Just like the first 8S models that carried the ElliptiGO founders' signatures on them, the Meb 8S features Meb's signature and his motto "Run To Win." The 8S model was retired in 2011, making this limited edition a unique opportunity for customers to own part of ElliptiGO history and celebrate Meb's victory.
"Every time I race, I run to win," stated Keflezighi. "After last year's tragic events, I was thrilled to be able to win the Boston Marathon for this country. I believe staying healthy was the key, and that's where ElliptiGO comes into play. There's no impact on the body, but you get a great workout. The ElliptiGO helped me prevail in Boston, and I'm honored that they've created a special 'Meb Edition' to commemorate that special win."
The Meb 8S design was unveiled to the public at the festivities leading up to the AJC Peachtree Road Race in Atlanta, Georgia on July 4th. Keflezighi was on hand and raced the first Meb 8S ElliptiGO at Piedmont Park in an exhibition against Atlanta community leaders before it was raffled off to a lucky winner by the Atlanta Track Club. Just 100 Meb 8S ElliptiGOs will be produced and shipped to customers at the beginning of October. Pre-orders are being accepted for this limited-edition ElliptiGO starting today. The MSRP for the Meb 8S is $2,999.
"Looking towards the future, we know Meb has his eye on the New York City marathon in the fall and is potentially making another run at the Olympics in 2016," stated Bryan Pate, Co-Founder of ElliptiGO. "If he continues using workouts on the ElliptiGO to help keep himself healthy, it seems anything is possible. We want to wish him well and look forward to more events to celebrate in the years to come."
For more information about the limited-edition Meb 8S and to pre-order, visit http://www.elliptigo.com/elliptigo-8s-meb-edition. For more information about the company and its products, visit http://www.elliptigo.com or follow them on Twitter @elliptigo and Facebook at http://www.facebook.com/elliptigo.
About ElliptiGO:
ElliptiGO, Inc. is the San Diego-based company that created the world's first outdoor elliptical bicycle. Combining the best of running, cycling, and the elliptical trainer, the ElliptiGO® delivers a high-performance workout experience that closely mimics running outdoors while eliminating the impact. Comfortable and easy to ride, elliptical biking is an effective way to build cardiovascular fitness without aggravating injuries, and is great for everyone from the weekend warrior to the elite athlete. More than a dozen Olympians, 25 Universities, and 100 professional athletes are leveraging the ElliptiGO to get a cardio workout in without the jarring impact of running or the discomfort of sitting on a traditional bicycle. It's the most fun and efficient way to get outside and be active. The full line of ElliptiGOs is available for purchase at select retailers nationwide and through the company's website: http://www.elliptigo.com.