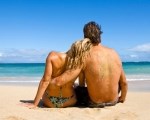 Top Events for 2014
Panama City Beach, FL (PRWEB) January 10, 2014
Panama City Beach is a town that knows how to celebrate, and this New Year, the Southeast's original party town is planning some of its most epic events ever.
Premier vacation rental source PCBVacation.com is pleased to announce a line-up of celebrations to suit revelers from all over. On the schedule for the final hours of Dec. 31, 2013: Food, drinks, dancing, music, and prizes at venues stretching from the West End of Panama City Beach to the East End.
Dinner is served with a side of celebration at Panama City Beach restaurants like Fishale Taphouse & Grill, which is offering a special five-course New Year's Eve feast pairing specially selected dishes with New Belgium beers. Other restaurants near top PCB vacation rental condos offering unique New Year's Eve fare include Kingfish Restaurant & Sushi Bar and Schooners, where dinner will give way to live music and dancing later in the night.
After dinner, New Year's Eve in Panama City Beach kicks off at the Boardwalk in Pier Park. The family-friendly celebration is free and open to the public, offering a carnival of entertainment from face-painting to costumed street performers. While the Barry Fish Band covers '80s and '90s favorites for the crowd, revelers can enter giveaways for exciting prizes.
At 8 p.m., the nets open and 10,000 beach balls drop on the Boardwalk at Pier Park, filling the streets. That's followed by an explosion of kaleidoscoping colors over the Gulf of Mexico as PCB's annual New Year's Eve fireworks display begins. The fireworks show is visible from several popular Panama City Beach vacation rentals.
The celebrations and live performances will continue until just before midnight, when thousands of revelers are expected to gather in Pier Park to watch an 800-pound lighted beach ball make the 100-foot descent counting down to New Years 2014.
Meanwhile, nightclubs near vacation rentals all along Panama City Beach will also be hosting some New Year's Eve fireworks of their own – on the dance floor, at least.
Club La Vela will be throwing open its doors at 8 p.m. for a New Years party spanning six huge theme rooms, including the newly remodeled Thunderdome. The club is offering drink specials, midnight champagne, six DJs and live rock from Hidden Talent.
At Spinnaker Beach Club, the costumed musicians from Jukebox Superhero – the Green Lantern's on drums and Batman's on bass – will get the party going with an '80s tribute show and dazzling light displays. Off the main stage, there will be DJs for the dance floor and karaoke for the daring.
And, of course, the Sandpiper Beacon Beach Resort will be hosting its annual Panama City Beach New Year's Eve Party at the Tiki Bar.
New Years in Panama City Beach is one of the area's most popular events, so condo rentals are filling up fast. Don't be left without a place to stay in Panama City for New Years 2014 – book now.
About PCBVacation.com: PCBVacation.com is the area's most comprehensive collection of vacation rentals, from beachfront condos to beach houses. The listings are placed by the property owners/managers themselves, ensuring the most accurate, up-to-date information is available for each unit.
On one site, visitors can quickly find the beach rental that suits their needs and book with fast, simple process that puts them directly in touch with the property owner/manager. Each listing shows multiple photos of the property, detailed information about the rental and current rates and availability.
Every unit featured on PCBVacation.com is clean, comfy and fully furnished with all the conveniences, including gourmet kitchens, entertainment centers and luxurious beds and bedding. They are among the top-rated vacation rentals in Panama City Beach.