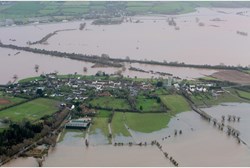 Now more than ever, it's extremely important to ask what we can do to prevent, or at least manage, the disruption caused by flooding, particularly in areas of long-term risk.
London, UK (PRWEB UK) 19 February 2014
According to MeteoGroup, 328% of the usual amount of rain fell in the South West of England during the first 12 days of February 2014. Nationwide, we have experienced the wettest December and January in 138 years, with daily news footage reminding us of how vulnerable we are to extreme weather.
Flooding has quickly become an issue of national concern. While many of the images appearing in the media feature flooded homes and their stranded owners, businesses have also been struck by waterlogged premises and immobilised staff, and the organisations tasked with clean up and rescue operations have just as many worries when it comes to ensuring staff safety and effective incident management.
"The continuous flooding taking place throughout the UK has forced us to realise that weather related incidents have the potential to affect everyone," says Trevor Wheatley-Perry, of business continuity specialists Vocal. "Now more than ever, it's extremely important to ask what we can do to prevent, or at least manage, the disruption caused by flooding, particularly in areas of long-term risk."
Troops were sent to deliver fuel, food, and sandbags to the worst hit areas of the Somerset Levels at the end of January, bringing amphibious vehicles and boats to provide a coordinated response to the flooding. However, as many homes in the 25 square-mile area have been submerged since Christmas, a large number of residents believe these measures to be too little, too late and that communications have been poor.
"Systems are available to help response staff communicate in a crisis, even when the traditional channels are out of action," says Trevor, "Our emergency notification software ensures that as soon as the Environment Agency sends out a flood or weather warning, emergency response teams and local community volunteers can be dispatched with a single, live message, send across multiple channels and devices."
"Preparation and communication is key; and if businesses, communities, and emergency teams can find a way to cooperate in a coordinated and crucially swift response to a flood warning, disruption and danger could be managed much more effectively."
Read more about Vocal's Emergency Notification systems or learn about its Incident Management tools
About Vocal and the iModus Suite:

Vocal is recognised throughout the world as a trusted innovator of multi award-winning and proven business continuity and communication solutions. In 2007, Vocal launched iModus; the first fully integrated business continuity suite encompassing Notification, Planning, Mapping, Alerting, Staff Safety and Incident Management modules. iModus has been used by many of the world's largest businesses during major business-affecting incidents, for example the 7/7 terrorist attack in London, the London 2012 Olympics, and the operation which was put in place after Hurricane Sandy caused devastation to the US east coast.
iModus now operates in over 85 countries and is a key part of the critical plans of a large number of global organisations.
As well as providing solutions to various challenges, Vocal provides its clients with exceptional technical support and accomplished account management, underpinned by a 24/7 customer service team which ensures that clients get the most out of their iModus suite.