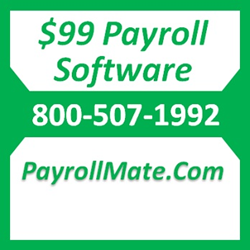 Payroll Mate free trial download available at PayrollMate.com
Chicago, IL (PRWEB) January 02, 2015
Real Business Solutions, maker of payroll tax software, reminds US businesses of the February 2, 2015 deadline for filing 2014 940 forms to the Internal Revenue Service. Through Payroll Mate, the payroll software offered by the company, small businesses and tax professionals can prepare and print ready-to-sign 2014 form 940 (Employer's Annual Federal Unemployment FUTA Tax Return) and 2014 940 Schedule A (Multi-State Employer and Credit Reduction Information). More details available at http://www.Payroll-Mate.com/.
Payroll Mate prepares, prints and exports Annual FUTA Return Form 940, which is required for employers to report taxes imposed under "The Federal Unemployment Tax Act (FUTA)." Payroll Mate also supports Schedule A, which is used by employers who pay unemployment tax to more than one state. The payroll software also supports credit reduction states which have taken loans from the federal government to meet state unemployment benefits liabilities and have not repaid the loans within the allowable time frame.
Employers can try Payroll Mate risk-free by visiting http://www.Payroll-Mate.com.
Payroll Mate is ideal for small and mid-size businesses including restaurants, professional services, physicians, attorneys, retail stores, dentists and insurance agents. Payroll Mate is also ideal for non-profits such as churches, charities and legal aid societies.
Payroll Mate highlights:
Automatically calculates federal and state payroll withholding;
Supports different types of pay periods including weekly, biweekly, semimonthly and monthly;
Supports customizable income, tax and deductions categories;
Exports Payroll checks to Quicken and accounting software like Microsoft Office accounting;
Supports payroll vacation and sick pay accrual;
Can be used as QuickBooks payroll alternative with the ability to export payroll data to QuickBooks software;
Supports the following payroll forms: 941, 940, 943, 944, W-2, W-3, Florida RT-6, California DE-9, California DE-9C, Texas C-3 , Texas C-4, New York NYS-45, Illinois 941 and Illinois UI-3/40;
Supports 1099 payroll and employees;
Supports income per mile and per piece;
Prints IRS 1099 and 1096 forms;
Supports 1099 employees and 1099 payroll;
Exports payroll reports to Excel, CSV and PDF;
Prints on Laser and Inkjet checks;
Prints on preprinted scannable W2 / W3 forms and prints on regular white paper;
Generates comprehensive reports including payroll journal, tax liability and deposit requirement;
Generates ACH Direct Deposit Files (Payroll Direct Deposit Support);
Supports fringe benefits;
Free updates during the tax year;
Runs over a network;
Prints MICR checks on blank check stock;
Give the Payroll Mate payroll software a test drive and see for yourself how easy managing payroll can be. Visit http://www.Payroll-Mate.com/.