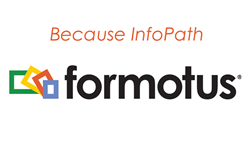 We are building more form design features into the Formotus cloud console, which will eventually supersede the capabilities of InfoPath.
Las Vegas, NV (PRWEB) March 04, 2014
Formotus, the leader in dynamic rich-client forms and deployment services, today announced support for InfoPath-compatible form filling on Windows 8.1. Formotus CEO/co-founder Adriana Neagu said, "We are excited to offer the Formotus application on the broad variety of Windows devices being introduced by companies including Nokia, Dell, Lenovo, Samsung, HP, Microsoft and other device companies. There is a huge pent-up demand in the market for running Formotus forms on Windows 8.1 machines."
Claiming the Mantle: An InfoPath-Compatible Migration Path
Microsoft recently announced an update on the future of InfoPath. InfoPath 2013 is the last release of the desktop client, and SharePoint Server 2013 includes the last release of InfoPath Forms Services, but both will continue to be supported through 2023.
"There is an enormous installed base of companies using InfoPath forms in their critical business processes," said Patrick Halstead, founder and CEO of Qdabra, a community leader InfoPath innovation and consulting. "Although the retirement of InfoPath will be very gradual, companies are eager to understand their options for the future. Formotus is the only solution I know of offering InfoPath compatibility and a clear migration path ahead."
"Just as Microsoft has encouraged customers to continue using InfoPath tools, we want people to know they can still use InfoPath to create Formotus forms," emphasized Formotus CEO Neagu, who was also one of the original co-inventors of InfoPath. "We are here to help customers migrate their current InfoPath forms to the Formotus service when they're ready."
Existing InfoPath form templates can be uploaded directly to the Formotus cloud console, often with little or no modification, and deployed to users on all kinds of devices.
"As Jeff Teper writes in his Office Blog post," Ms. Neagu elaborated, "we also 'believe that the future of work is only possible if employees are empowered to do their work anywhere, on any device' – and that's our vision at Formotus for the future of dynamic rich-client forms."
Reinventing Rich, Dynamic Forms
"We have been building a more relevant, cloud-based solution since 2005 that better satisfies customers' needs with offline, cross-platform support of rich and dynamic forms that can query and submit data to a wide variety of data stores," said Neagu. "We are building more form design features into the Formotus cloud console, which will eventually supersede the capabilities of InfoPath."
Formotus has for years been offering form design features for the cloud and mobile era that go beyond forms technology of the past. And Formotus forms are configured, deployed and managed from the cloud, giving organizations complete real-time control over access authorization and form updates.
SharePoint and Web Service Data Connections
Formotus forms don't only run across platforms, they also work with data from any data source. Customers can either build forms that run out-of-the-box with Microsoft SharePoint or they can integrate their forms with SQL, SAP, Oracle, and just about any data source that is exposed in standards-based Web services. In some cases Formotus customers submit their Formotus forms by email to other storage solutions, including Box and Dropbox, as well as OneDrive for Business from Microsoft.
Formotus works with any version of SharePoint, including Office 365, with no server-side modifications or additional software required.
About Formotus
Founded in 2005, Formotus is the creator of the Formotus service -- a cloud-based forms-as-a-service solution enabling businesses of any size to create, with drag-and-drop tools and intuitive interfaces that don't require any coding, custom mobile business forms that run on the best devices and work with their existing data stores.The Formotus service is hosted on Microsoft Windows Azure to provide customers with high availability, reliability and security.
Formotus has a growing network of partners to deliver the Formotus service to businesses large and small all over the world. The Formotus mobile client is available in English, German, Spanish, Japanese, Arabic and Portuguese.
All product and company trademarks are the property of their owners.