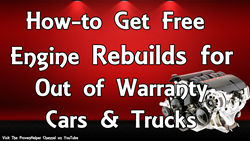 The subscribed viewer, a man named Bruce, recently saved $13,000 after watching a ProvenHelper video related to a rough idle issue on his almost 9-year-old out-of-warranty Lexus GS300.
(PRWEB) April 24, 2014
ProvenHelper, LLC is excited to announce its biggest success story to date, thanks to the ProvenHelper YouTube Channel. After watching a ProvenHelper how-to tutorial video, one viewer recently saved a staggering $13,000.
The subscribed viewer, a man named Bruce, recently saved $13,000 after watching a ProvenHelper video related to a rough idle issue on his almost 9-year-old out-of-warranty Lexus GS300.
"After having seen your video, I took my vehicle to the nearest Lexus dealership for a checkup. I had nothing to lose, they ran a test on it and said that it needed to be looked at," Bruce said. "My Lexus dealership installed a new engine block with new pistons, new rings, etc. … it cost the dealership $13,000 in parts and labor, and they gave it to me all for free as an out of warranty act of good will … thank you for posting that video as it gave me the confidence to investigate."
Voitek Lex Klimczyk, owner and founder of ProvenHelper, LLC, said he is ecstatic that his advice saved more than one subscriber such a significant amount of money. His goal is to post highly useful how-to information for those items that most people feel too intimidated to tackle themselves. This isn't a standalone case. From $20 to $500 to thousands of dollars – anyone can save money with the help of these how-to video tutorials.
"My background as a computer engineer to car tinkerer to a business manager for a construction company opened up my eyes to how simple most professions really are. Now I simply teach people how to be their own professional and pocket those hundreds or thousands of dollars for the things they really want. No one wants to fork over hundreds or thousands of dollars when something breaks or needs servicing, we just do it because we feel there's no other choice but to eat the cost and hopefully not go into debt, Klimczyk said. "My mind is always on my fans and subscribers. If I just learned something new and saved a bunch of money, the first thought on my mind is how I can produce a tutorial to help others in the same situation."
Klimczyk's passion for helping others began at a very young age. He began helping family members and friends with computers and IT issues, since he was an early adopter of computers. Eventually he worked his way up to become a business owner and founded both the ProvenHelper Channel on YouTube and SimplyAdditions.com, a popular and award-winning home improvement website that helps homeowners with simple and complex remodeling projects like home additions.
Klimczyk's contractor hiring and managing guides for homeowners have won several Better Business Bureau Consumer Education Awards. Those consumer how-to guides also earned a citation of recognition from the State Attorney General and a congratulatory letter from the Commissioner of The Department of Consumer Protections in Connecticut.
"I never dreamed that I would be helping people all over the world making the same type of tutorials I started making as a kid, back when I used to teach adults how to repair or use their computers. But now that I'm doing it for a living, I have to admit that I feel extremely blessed to do something that I had the opportunity to master because of my unique life experiences. I'm literally one of those people that get to do what they love", Klimczyk said.
The ProvenHelper YouTube Channel features more than 230 how-to videos and tutorials specifically made to help others save money, by helping them tackle anything from a pricey car repair, to how to boost their internet browsing speed on their computer, iPhone, or any Android device like the Samsung Galaxy smartphone. Klimczyk's diverse life experiences and unusual ability to quickly learn almost anything allow him to create tutorials on practically anything.
"I'm just getting started here. Soon I'll be recording several home remodeling tutorials that will allow homeowners to do their own plumbing, replacement windows, and do-it-yourself solar installations," Klimczyk said.
About ProvenHelper:
ProvenHelper is dedicated to providing how-to videos and tutorials for the purpose of saving people lots of money from unexpected bills. With more than 230+ money saving how-to videos, ProvenHelper can help consumers save anywhere from tens to thousands of dollars on all types of projects. The biggest savings to date from one ProvenHelper YouTube subscriber is a staggering $13,000.
Visit The ProvenHelper Channel on YouTube to check out all of the Proven Helper How-to Video Topics. Start here: http://www.youtube.com/user/homeaddition
Voitek Lex Klimczyk "The ProvenHelper" can be contacted via Twitter,Facebook, & Google+ . Just search for the ProvenHelper Brand on any social networking site.
http://twitter.com/ProvenHelper
http://plus.google.com/+Provenhelper
http://www.facebook.com/ProvenHelper