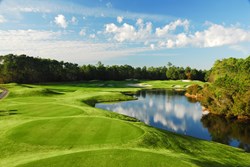 Golfers are always looking for added value and courses are always looking to fill their tee sheets.
North Myrtle Beach, SC (PRWEB) September 26, 2013
NorthMyrtleBeachGolf.com is pleased to announce new spring golf specials that will entice golfers to visit the Grand Strand in 2014 more than ever before. Not only does the World's #1 golf destination boast more than 100 golf courses that attracts golfers of every age and skill level, the majority of package providers now offer many different incentives along with their packages to give added value.
Garrett Fonvielle, Director of Golf at NorthMyrtleBeachGolf.com, discusses the new packages for 2014. "Golfers are always looking for added value and courses are always looking to fill their tee sheets. By offering incentives such as free lunch, free drinks, and/or gift cards to the golfer, then both parties benefit."
In March of 2012, Myrtle Beach National Company and Burroughs & Chapin Golf Management, the two largest course owners and operators in the area, joined forces to form National Golf Management. NGM has recently released their Prime Time Rewards package. This package allows golfers to play four or more rounds and choose from 22 of their courses. In addition, each golfer receives a $100 gift card that can be used for food/beverage, merchandise, or equipment at any of their clubhouses. Pricing is dependent upon the course selected and desired time of day to play giving the golfer a variety of options to fit their budget and preferences.
Another new package option for 2014 is the East Coast Combo golf package. With 17 different courses to choose from, spanning from the Grand Strand to Wilmington, NC, players can play three, four, or five rounds in this package. The three and four-round packages include lunch and two beverages on each day of play and the five-round package includes lunch, two beverages, a dozen Pro-V1 golf balls, and a 30% pro shop merchandise discount.
The Legends Golf & Resort was one of the first companies to institute incentives with their rounds. The group is comprised of five courses, three of which are centrally located in Myrtle Beach, one located on the South Strand, and one located in Sunset Beach, North Carolina. Three and five-round packages are available that include a buffet breakfast, lunch, and two beverages on each day of play.
Fonvielle goes on to say, "NorthMyrtleBeachGolf.com has seen an overwhelming response to the new packages for 2014 that include the various incentives. By continuing this trend, the courses participating will most certainly see increased business."
In addition to golf packages, NorthMyrtleBeachGolf.com also assists golfers with their accommodation needs. From oceanfront and ocean view condominiums to vacation homes for larger groups, a variety of options are available.
You can book any of these packages by visiting http://www.northmyrtlebeachgolf.com or calling 1-800-366-2073.
About NorthMyrtleBeachGolf.com
NorthMyrtleBeachGolf.com, along with its parent company, CondoLux, specializes in golf packages, vacation rentals, real estate, and vacation rentals serving the Grand Strand for 25 years.
More information about NorthMyrtleBeachGolf.com is available by calling 1-800-366-2073 or visit http://www.northmyrtlebeachgolf.com .