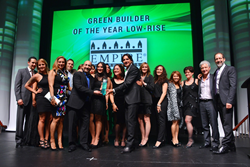 We strive to create the best possible homes to meet our customers' evolving needs, and plan to continue innovating to make a positive environmental impact in the long-run.
Toronto, Ontario (PRWEB) May 09, 2014
Empire Communities has just been named 2013 Green Builder of the Year by the Building Industry and Land Development Association (BILD). The prestigious award recognizes best-in-class builders leading the way in sustainable design and development, and is given every year at the Annual BILD Awards.
The BILD Awards is an exclusive gala held to celebrate the very best of the building and development industry in the greater Toronto area. This year's event took place on Friday April 25th at the Paramount Event Venue, featuring a cocktail reception and dinner flanked by pre- and post-dinner awards. Selected for its innovative approach to designing and constructing eco-conscious homes and buildings, Empire Communities was honored to take home the award for Green Builder of the Year.
As one of Ontario's top homebuilders, Empire Communities adheres to the Energy Star standard set by the US Environmental Protection Agency (EPA). In accordance with these guidelines, its buildings include high performance windows, taped ducts for better air tightness and upgraded insulation. (Empire has also introduced the option for purchasers to employ geothermal heating and cooling in their homes in Niagara at their Imagine community) The company uses tried-and-true construction methods and leverages its enduring relationships with top-notch suppliers to create the best possible communities for homeowners.
Each Empire Communities home is carefully designed and built to reduce energy bills and promote a healthier living environment, helping residents to save money and enjoy a higher quality of life. The company also employs a Green Team of experts to educate homeowners on the inner workings of their new energy-efficient homes. The just-announced award from BILD marks the culmination of a successful year for Empire Communities, whose longstanding commitment to excellence has solidified its position as a top player within the industry.
"We are extremely grateful to have been selected for this award," said Paul A. Golini Jr., Empire Communities EVP and Co-Founder. "We strive to create the best possible homes to meet our customers' evolving needs, and plan to continue innovating to make a positive environmental impact in the long-run."
Empire Communities has also been recognized as the 2013 Green Builder of the Year at the Award of Excellence from Enerquality, a company that designs and delivers green building programs to the residential construction industry.
"We are very happy to have been recognized by Enerquality with one of their Awards of Excellence," said Golini Jr. "Working in concert with private sector companies like Enerquality and government entities like Natural Resources Canada (NrCan) has cultivated very healthy collaborative building environment. Our combined efforts are producing structures that meet or exceed recommended green-building standards, and the people of Canada are reaping the benefits with lower energy costs, and a lower impact on the environment."
About Empire Communities
Empire Communities is an award-winning homebuilder headquartered in Vaughan, Ontario. Recognized for its outstanding attention to detail and best-in-class customer service, the company designs and builds commercial, industrial, low-rise and high rise residential, luxury new homes, and affordable housing properties in the greater Toronto area. Over the past 20 years, Empire Communities has developed some of the most successful master-planned communities in the area, including over 5100 houses and 3200 condominium units. Its commitment to using energy-efficient amenities and appliances sets the standard for eco-friendly living to help promote a sustainable future.
For more information please visit http://www.empirecommunities.com/.