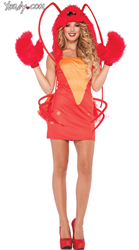 PHOENIX, Ariz. (PRWEB) September 18, 2014
Every Halloween Yandy.com offers customers some of the most unique and highly talked about sexy costumes available, and 2014 is no exception with the introduction of nearly 1,000 new styles that are sure to get the interwebs buzzing.
To assist customers in choosing just the right over-the-top costume to help them stand out at that upcoming soiree, Yandy.com has come out with a list of the top viral costumes for 2014:
1. Sexy Lobster Costume - Complete with furry claws, lobster hood and ruffle back mini dress, the Sexy Lobster Costume is the ideal costume for the customer in a pinch.
2. Where's Wanda Costume - The adventurous customer that opts for this red and white striped crop top, matching high waisted shorts with attached suspenders and red and white striped beanie will be anything but hard to spot. Sold with optional red and white striped stockings and round costume glasses.
3. Sexy Peanut Costume - The Sexy Peanut Costume features a yellow peanut romper, black shrug and top hat with an optional cane kicker.
4. Deluxe Jellyfish Costume - Clear plastic tentacles, tutu skirt, mesh bodice and eye print bust make up this one-of-a-kind costume.
5. Sexy Beaver Costume - Featuring a brown cuddle plush romper with attached beaver tail and beaver hood with buck teeth, the Sexy Beaver Costume is just one of many popular animal costumes at Yandy.com.
Other notable popular costumes for 2014 include the Galaxy Gremlin, Heart Attack Hottie Nurse and the Adult Hamburger costumes, among others.
In years past, the outrageous and frenzy inducing costumes Yandy.com has had the foresight to create often times end up on several pop culture websites and television programs. The Sexy Pizza Costume, for example, appeared on websites like BuzzFeed.com and Yahoo! Shine as well as television shows like Ellen and The Daily Show.
Not only does Yandy.com boast one of the largest selections of sexy standard and plus size sexy Halloween costumes available online, but the site also offers customers a free lace panty with every order, free shipping on all orders over $70 or more as well as same day shipping for every order.
With more and more costumes being added to the website daily, Yandy.com will see no shortage of popular costumes for 2014.
About Yandy.com
E-commerce is on the rise and Yandy.com is one of the largest online retailers of women's lingerie, sexy Halloween costumes, swimwear, rave wear, shoes, wigs, hosiery and clothing on the web. Founded in 2003, Yandy boasts more than 7,000 products always in stock at easily affordable prices. Yandy ensures that every customer will receive a safe, secure and private online shopping experience and is listed as a Google Trusted Store. Yandy is dedicated to customer service and only sells what is in stock which allows for quick, same day shipping. Offering the highest quality products at the most affordable prices in the market, Yandy has become a leader in e-commerce. Yandy works closely with all of the manufacturers the company carries and hand selects all of the items on the available for purchase on the site to ensure customers have the largest and most diverse collection of items to choose from. In addition, the customer service team at Yandy is unrivaled. With attentive and helpful operators, should a question or problem arise, the customer service team at Yandy is always willing and able to assist. At Yandy, every customer can Be Sexy.
###