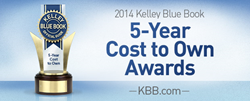 Atlanta, GA (PRWEB) April 28, 2014
Jim Ellis Mazda is proud of the brand being named the lowest cost brand of vehicles to own in the 2014 Kelley Blue Book (KBB) 5-Year Cost to Own awards. The Cost to Own awards go to the company that has the most affordable vehicles over a five year period and Mazda zoomed past competitors as the brand snagged the coveted award.
The 5-Year Cost to Own awards recognize the achievements of automotive companies that produce vehicles that retain their value over the first five years (60 months). This particular award compared all 2014 model-year vehicles available for sale in the United States. The KBB award helps consumers project resale values by analyzing vehicle depreciation, maintenance, fuel costs, financing costs, state fees and insurance fees.
Mazda received acclaim for the CX-5 in the crossover and SUV segment, the Mazda3 and Mazda6 won awards in the sedan and hatchback segment and the Mazda Miata MX-5 won in the convertible category.
Mazda's reliability has propelled the brand forward as one of the best driving cars in its class. For more information about the Kelley Blue Book 5-Year Cost to Own Awards, visit the KBB website.
Kelley Blue Book provides reliable information to car owners interested in buying or selling vehicles. KBB values are established by vehicle information from manufacturers with data containing new and used car prices from transaction records. The company uses additional data from auction audits, independent dealers, franchise dealers, financial institution lessors and consumer private party transactions to determine KBB values. According to the KBB website, the final values are calculated through the analysis of said data in addition to current economic conditions, historical trends, industry developments, seasonality and location. The final values reflect the current marketplace and the average consumer.
About Jim Ellis Mazda Atlanta
Jim Ellis Mazda Atlanta is located at 5855 Peachtree Industrial Boulevard, and serves the metro area carrying full lines of Mazda cars, trucks and SUVs as well as a large inventory of used vehicles. They also provide full service and repairs on-site for all Mazda vehicles. You can visit their website at http://www.jimellismazdaatlanta.com or contact them by phone at 888.814.7086 to find out more.