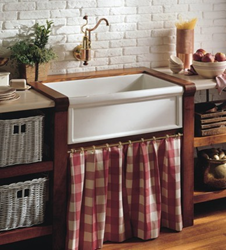 Open shelf storage is part of a larger trend towards more open, personalized kitchens with increased visibility and a more relaxed, casual, or even rustic vibe.
(PRWEB) January 25, 2014
HomeThangs.com – the Online Home Improvement Store has made their goal to deliver the right product to the consumer. With that in mind, shopping and home design tips, as well as special product selections are being introduced.
Kitchen trends are generally pretty slow to change – after all, a major kitchen renovation is no small investment. But as kitchens increasingly become the social hub of the home (and one of the top features buyers are looking for), differences in taste, technology, and other trends become more pronounced from year to year. HomeThangs.com has introduced a guide to a few of the hottest kitchen trends for 2014, as well as a quick look at what's changed since last year.
1. Black Countertops
One of the most prominent 2014 kitchen trends is the steep rise in popularity of black countertops. For die-hard enthusiasts, black granite is still the top choice, but many homeowners and designers are beginning to gravitate towards composite or solid surface countertops, which are less expensive, have a more consistent appearance, and are much easier to maintain.
2. Open Shelves Or Glass Fronted Upper Cabinets
Perhaps the most dramatic trend shift in 2014 is the shift toward open shelf storage in place of upper cabinets. This is part of a larger trend towards more open, personalized kitchens, increasing visibility and turning everyday items into a personalized display. Glass fronted cabinets or cabinets with no doors at all are a more affordable substitute, but kitchens with simple shelves or no upper storage at all will become much more common this year.
3. Tall, Slab Backsplashes
Freeing up the space over the counter means that in 2014 kitchen backsplashes are trending bigger and taller than ever. This year, expect to see backsplashes that go all the way up to the ceiling, and that are as wide as an entire wall. Last years back-painted glass backsplashes are still popular, particularly with a more modern style, but backsplashes made of a single slab of stone like marble are going to become more common.
4. Large, Industrial Style Statement Lights And Sconces
Eliminating upper cabinets also leaves a lot more room to focus on lighting fixtures. Large, turn-of-the-century industrial style warehouse lights are especially popular and work well over the kitchen island, but consider adding unique, industrial style sconces or swing arm lights in place of upper cabinets. These lights have amazing character and personality, and because they're typically adjustable, they make for great task lighting, too.
5. Rustic Farmhosue Kitchens
Traditional farmhouse style kitchens are getting a new twist in 2014, with reclaimed farmhouse and industrial elements adding a slightly rustic, earthy touch to this classic style.
6. Bold, Dark Colors
By and large 2014 is going to be a year for bright, bold colors in the kitchen, rather than the light neutrals we've been seeing in years prior. Dark, assertive reds, blues, copper or brass finishes, browns, and even black are becoming quite popular, for paint on the walls and cabinets as well as smaller accents like the backsplash.
7. White Kitchens
Despite the move toward bolder, darker colors, white kitchens are holding on to their popularity, in no small part because they pair very well with a few of 2014s other most popular kitchen trends, including black countertops and reclaimed wood and industrial fixtures.
8. Antique Hardware
In 2014, chrome, steel, and other reflective metal finishes have fallen out of favor for items like the kitchen faucet, cabinet hardware, range hood, and lighting fixtures. Swapping to a matte finish like brushed or satin nickel will do the trick, but brass, antique gold, black, and oil rubbed bronze finishes have a warmer look that's even more desirable, and very popular this year.
9. Family Friendly Kitchens
As kitchens become more of a social hub for the family, emphasis on the traditional work triangle has faded in favor of designing a kitchen layout that will accommodate all members of the family at once. Homework stations for the kids, multiple prep areas for couples who cook together, and more efficient appliances like refrigerator drawers or double dishwashers are becoming much more common.
10. Smarter Kitchen Storage
Customized storage is quickly becoming a must-have in kitchens of all sizes. Innovative storage devices make the most of awkward spaces, while drawer organizers and petite pull out cabinets make it easy to keep small items organized and out of sight.
To see some of these kitchen trends in action, check out the full article here.
HomeThangs.com is not only a home improvement superstore, it also provides expert design tips and a comprehensive shopping guide, taking the ideas from professional interior designers, and offering tips to the consumers on how to pick the products to best suit their needs.