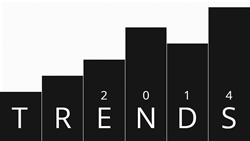 Miami, FL (PRWEB) December 17, 2013
Each year brings new products and innovations as consumer preferences and technology changes. In the bedding industry, mattress trends are often of interest both within the industry and to consumers as well. For those interested to see what 2014 may hold, or for shoppers deciding whether to buy a bed during end-of-year sales or wait until the new year, Consumer Mattress Reports just released their latest article discussing expectations and possible future directions.
In the report, titled "Mattress Trends to Expect in 2014", CMR looks at several potential product and sales trends that might develop over the next year, based on trends of 2013 and previous developments, as well as industry reports and and their previous articles and analysis.
Trending mattress topics discussed in the article include growth of specialty mattresses and hybrid options, increasing presence of green and eco-friendly lines, and continuing focus on coolness and temperature control. Potential pricing and quality trends are also included, as well as potential shifts toward online sales and greater differentiation among smaller companies.
Consumer Mattress Reports cites industry statistics from the International Sleep Products Association, IBIS World, and Research and Markets in the article to bolster points. Most serve to highlight the growth of specialty segments like memory foam which has seen considerable growth at the expense of traditional spring beds, a mattress trend which will likely continue. The article highlights the forecast from Research and Markets that plant-based memory foam in particular will likely emerge as a leading product based on cooler sleep, affordability and eco-trends. CMR also compares this expected mattress trend with their recent comparison of memory foam brands that included emerging plant-based brand Amerisleep.
The article closes with a brief summary of points targeted at mattress shoppers, highlighting that 2014 may bring somewhat lower entry-level price points with a focus on online deals, as well as more memory foam products, green options, cool claims, and customization opportunities. For anyone considering a new bed or in the industry, the article will likely offer some useful information on mattress trends and points worth considering as the new year begins.
Consumer Mattress Reports is an online magazine specializing in all things to do with beds and sleep. The easy-to-read blog design offers an inviting format for readers, with well-researched, expert articles on mattress ratings and brands. In addition to reviews and comparisons, the website also covers the latest mattress news and offers helpful shopping information geared towards shoppers.