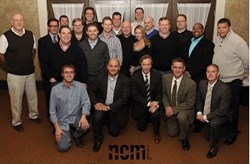 Having completed NCM's most demanding academic program, I am confident these men and women are well prepared to not only be more effective in their management roles today, they will be instrumental their dealerships' growth and future success.
Overland Park, Kansas (PRWEB) January 20, 2014
NCM Associates recently concluded another series of General Management Executive Program sessions and rewarded the 21 graduating dealership managers with their certificates of completion at a dinner reception in Kansas City. "It is our honor to assist in the professional development of yet another class of impressive managers and up-and-coming dealership leaders," said NCM CEO and President, Paul Faletti Jr. "Having completed the NCM Institute's most demanding academic program, I am confident these men and women are well prepared to not only be more effective in their management roles today, they will be instrumental their dealerships' growth and future success."
Sam Asaad, a general sales manager and one of the graduates who received his certificate this month, told NCM that after years of experience in the car business, he thought he knew all he needed to know about running a dealership. "Coming to this class has opened my eyes to understand and use the information that I learned to run a better operation and be able to measure success. I now understand how to better our day-to-day business and increase profit," he said.
Kyle Dudgeon, another graduate and the general manager at Evans Toyota (Ft. Wayne, IN), had this to say about the program: "The information is invaluable when implemented and used correctly, so for that I am thankful. I will miss coming back every two months and having the pleasure of surrounding myself with so many smart and talented people. If anyone is ever questioning taking this class I urge you to move forward."
The General Management Executive Program, through a comprehensive and intensive curriculum taught by successful industry veteran instructors, is designed to equip current and future automotive dealership executives for long-term success in retail automotive management. With emphasis in dealership financial and operational best practices, the program's objective is to build a solid executive leadership foundation in order to strengthen dealership operating performance today and sustain the long-term viability of the retail automotive industry.
The NCM Institute is a well-established training partner to retail automotive dealers, having trained thousands of dealership managers, executives and dealer principals since its inception just three years ago. NCMi® is unique in that it uses a combination of dedicated instructors and visiting faculty from the NCM Retail Operations Consulting and NCM 20 Groups divisions to teach the management and leadership best practices used in some of the nation's leading automotive dealerships.
Below are the names of the 21 GMEP graduates who received their certificates of completion last month:
Marcus DeAngelis, Burlington KIA
Josh Bentley, Man O' War Harley Davidson
Tom Ebenreck, Plaza Lexus of Creve Coeur
Nick Green, Harry Green Chevrolet Nissan
Jim Schlabach, Plaza Infiniti of Creve Coeur
Ben Nusinow, Lexus of Highland Park
Chris Scatterday, Lexus of Mt. Kisco
Kyle Dudgeon, Evans Toyota
Mark Rodrigues, Evans Toyota
Frank Geary, Sunset Porsche Audi
Pete Van Horn, Sawicki Motors
Josh Goldfarb, Subaru of America - Western Region
Shanna McGrath, McGrath Audi of Glenview
David McGrath, McGrath Honda of Elgin
Eric Clark, Glenn Toyota
Jason Horack, Hare Chevrolet
Michael Mitchell, Coastal Chevrolet
Brandon Rodgers, Vaden Nissan of Hinesville
Brian Limbaugh, Limbaugh Toyota
Dick Strong, Van Horn Chrysler Dodge Jeep Ram
Sam Asaad
For information about the General Management Executive Program or the NCM Institute and its complete suite of traditional, Web-based, and private management training options, call 866.756.2620 or stop by the NCM booth #4355 at the NADA 2014 Expo January 25-27, 2014 in New Orleans.
About NCM Associates, Inc.
NCM Associates, Inc. is the originator of the automotive industry 20 Group peer collaboration process and has been providing dealership Benchmark analytics, Education and Retail Operations Consulting services to the industry since 1947. Located in Overland Park, KS, NCM provides a robust suite of services designed to drive dealership profitability using its proven, operations-focused Benchmark® for Success program with new and pre-owned U.S. automotive dealerships, as well as with dealerships in more than 20 other industries. NCM Associates is proud to be 100% employee-owned. For more information about NCM Associates, visit http://www.ncm20.com or call 800.756.2620.