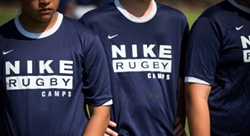 At Nike Rugby Camps our goal is to deliver a quality camp experience for any player who simply wants to get better.
San Rafael, CA (PRWEB) March 05, 2014
Nike Rugby Camps unveiled its 2014 schedule of junior rugby camps this week, reaffirming its commitment to deliver quality instruction to youth rugby players of all ages and abilities.
"Our approach is broad in scope," states Jason West, vice president for Nike Rugby Camps. We strive to expose young athletes, regardless of age or aptitude, to top-level coaching in an environment that produces true skill enhancement, engenders confidence, and creates more passion for the game. In the end it's about giving more American youths an opportunity to play rugby and excel."
Camps are scheduled in California, Texas, Illinois, Colorado, New York, South Carolina and Massachusetts. Instruction is provided by Division I college coaches, and current/former members of the USA Rugby Team. The curriculum places heavy emphasis on mastering fundamentals and improving overall technique. Programs types include overnight camps with commuter options, day camps, and two-day clinics. Most locations are open to kids ages 9 – 18.
"We're thrilled to expand the Nike Rugby Camp Program to new locations this summer," states Stanford University Rugby Coach, Matt Sherman. Our past success has been built around providing hands-on instruction to campers of all experience and skill levels, from America's best coaches and players. The results we have seen are campers improving dramatically, making great friends, and having a fun and rewarding experience."
Nike Camp Director and former USA U20 Coach, Scott Lawrence, adds, "At Nike Rugby Camps our goal is to deliver a quality camp experience for any player who simply wants to get better. Like the sport of rugby our camps are for all shapes and sizes. We just enjoy coaching and being around young players each week."
About US Sports Camps and Nike Rugby Camps
Nike Rugby Camps (NRC) is a division of US Sports Camps, Inc., America's largest sports camp network. Last year NRC joined forces with ELITE Rugby Camps and Evolution Rugby Camps to reach over 5,000 new and experienced players.
To explore a variety of camp options and locations please visit the official website for Nike Rugby Camps at ussportscamps.com/rugby or phone 1-800-NIKE-CAMP.