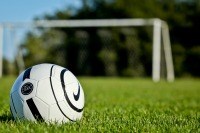 San Rafael, CA (PRWEB) February 13, 2014
Nike Soccer Camps is pleased to offer four new camp locations this summer. The 2014 schedule features soccer camps nationwide with day, extended day, and overnight options available.
Adding to the impressive lineup of Nike Soccer Camps, the 2014 camp schedule features four new locations: Embry Riddle Aeronautical University, Cal State Channel Islands, University of Mississippi, and the Wheeler School Farm. The camps offer top notch soccer training. Campers live the life of a collegiate athlete while living in the dorms and training at the schools' facilities.
Nike Soccer Camps are designed to help players, ages 8-18, develop their skills and increase their passion for the game. Exposure to a campus setting adds a stimulating, cultural dimension to a camper's experience, and provides a safe and secure camp environment. Most of our camp directors are head and assistant coaches at the school.
Nike Soccer Camp locations include: The California Soccer Academy, Berkeley, CA; the Soccer Academy California, Camarillo, CA; Aztec Soccer Academy, San Diego, CA; UC Santa Cruz, Santa Cruz, CA; Irvine Valley College, Irvine, CA; Francis Parker School, San Diego, CA; Seattle University, Seattle, WA; Willamette University, Salem, OR; the Arizona Soccer Camp, Prescott, AZ; Elite 150 Total Development Camp, Elmhurst, IL; Curry College, Milton, MA; Wheeler School Farm, Seekonk, MA; Sacred Heart University, Fairfield, CT ; Adelphi University, Garden City, NY; Widener University, Chester, PA; St. Timothy's School, Stevenson, MD; Collegiate Soccer Experience at Virginia Tech, Blacksburg, VA; the Charlotte Latin School, Charlotte, NC; Berry College, Mt. Berry, GA; University of Mississippi, University; MS; and Tiger Town Soccer Camp, Lakeland, FL.
At the Nike Soccer Camps, the goal is to provide a focused atmosphere for any soccer enthusiast who is looking to improve their skills, work hard, make new friends, and have fun. The company's mission is to provide athletes with the tools to improve and to enjoy soccer for life! Every facet of the game is covered with an emphasis on fundamentals to help players become valuable team members.
About US Sports Camps
US Sports Camps (USSC), headquartered in San Rafael, California, is America's largest sports camp network and the licensed operator of NIKE Sports Camps. Celebrating 40 years this summer, the company has offered summer camps with the same mission that defines it today: to shape a lifelong enjoyment of athletics through high quality sports education and skill enhancement.
Players, coaches, parents, and others interested in the 2014 Nike Soccer Camps can visit ussportscamps.com/soccer/nike or call 1-800-645-3226.