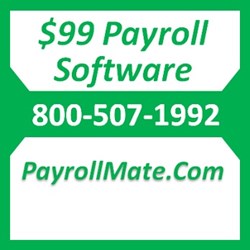 At Real Business Solutions, we focus on building affordable and reliable payroll processing solutions for small businesses, CPAs and accountants.
Chicago, IL (PRWEB) January 01, 2014
2014 payroll withholding tables and tax rates have been released by the IRS and numerous state departments of revenue. A new version of Payroll Mate® software has been launched with support for the latest tax tables and payroll processing regulations for the 2014 year. Payroll departments and business owners are invited to download a 30-day trial of Payroll Mate® by visiting http://www.realtaxtools.com/.
According to IRS Notice 1036 ( December 2013 - Early Release Copies of the 2014 Percentage Method Tables for Income Tax Withholding), the 2014 employee and employer social security tax rate is 6.2%. The social security wage base limit has been increased to $117,000. The Medicare tax rate remains at 1.45% each for the employee and employer. There is no wage base limit for Medicare tax. In addition to withholding Medicare tax at 1.45%, employers must withhold a 0.9% Additional Medicare Tax from wages paid to an employee in excess of $200,000 in a calendar year.
The following states have also released new payroll withholding tables for the 2014 tax year: California, New York, Connecticut, District of Columbia, Idaho, Kansas, Kentucky, Maine, Maryland, Massachusetts, Minnesota, Missouri, New Mexico, North Carolina, Oklahoma, Rohde Island, Vermont and Oregon.
Payroll Mate® is complete payroll software that fits the needs of accountants and small to medium size businesses. Payroll Mate 2014 automatically calculates net pay, federal withholding tax, Social Security tax, Medicare, additional Medicare tax, state and local payroll taxes. Payroll Mate also supports different types of payroll pay periods, prints checks, prepares payroll forms 941, 943, 944, 940, W2, W3, 1099-MISC and 1096. The small business payroll software also supports user-defined Income, Tax, and Pre-tax / Post-tax Deduction categories making it very flexible and powerful. Payroll Mate® payroll system works with different accounting software including Intuit QuickBooks, Sage Peachtree (Sage 50), Quicken, Microsoft Accounting and more.
Free trial of Payroll Mate 2014 is available from http://payroll.realtaxtools.com/.