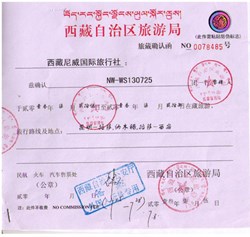 Apply Tibet travel permits with local reliable tour agency www.tibetctrip.com for 2014 vacation!
(PRWEB) December 17, 2013
As the 2014 Tibet travel season draws closer, many travel groups have had questions about Tibet travel permits. Foreign visitors in Tibet must obtain a travel permit before they will be allowed entry. Fortunately for travelers, a registered travel agency will take care of the details leaving visitors free to enjoy their tour. TibetCtrip Travel Service-TCTS (http://www.tibetctrip.com) explains what travelers need to do to help ensure a hassle free experience.

After scheduling the tour TCTS will need copies of passport pages and Chinese visas for each travel group member. This is required for the permit application. If some travelers don't have their passport or visa at the time of booking be sure to send copies at least two weeks before the tour begins.
TCTS says that travelers can think of their permit as a kind of Tibet visa; it will be needed to board trains and check into flights. Travel groups coming from Mainland China will need to provide TCTS with an address for the permits to be sent; usually this is a hotel. Groups coming from Nepal will have their guide meet them at the border or airport, as TCTS does not mail permits internationally.
Groups of any size, even individuals, can now obtain a Tibet travel permit. However, please keep in mind that groups with travelers of different nationalities cannot enter Tibet on the same permit. Certain individuals such as journalists, foreign diplomats, and members of the military may need special permission to enter Tibet; TCTS will provide details while helping travelers plan their tour.
While the rules and details can seem a bit overwhelming when beginning to plan a tour the good news for travelers is that TCTS will do all the leg work. Travel groups just need to provide copies of passports, visas, and an address for the Tibet permit to be sent (if coming from Mainland China). Please keep in mind that permit regulations may change at any time without notice; Tibet travel agency TCTS will help travelers adjust their itineraries should any drastic change in regulation take place. The 2014 travel season will be here soon; it's time to start planning an adventure.
Devin Moore is a travel writer based in Denver, Colorado. Devin publishes Tibet travel related information and wish to spread awareness of Tibet and its people.