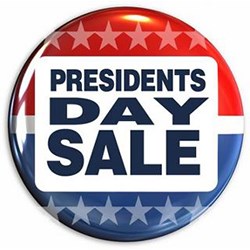 San Francisco, CA (PRWEB) February 13, 2014
For the celebration of the coming 2014 Presidents' Day, web hosting review and rating site BestHostingSearch.NET today introduced some of the best web hosting deals and offers in the industry with over 50% discounts after reviewing 100+ promotional packages on not only price, but also price value.
The top 3 offers are from WebHostingHub, JustHost and InMotion Hosting, 3 leading companies having been serving clients with affordable and quality service for more than 10 years.
1) WebHostingHub
WebHostingHub offers no coupon code but an exclusive promotional link to give customers signing up on Presidents' Day the access to an up to 72% discount for the all-in-one shared plan which is priced from $6.99/mo regularly. When the link is activated, the effective price of the plan is $1.95/mo for the first 3 months and $3.99/mo for the remainder of the term. This promotional rate is valid for 2/3 years' billing.
For customers subscribing to shorter terms, there is still a 43% discount which reduces the price to $3.99/mo. $200 marketing credits and a 90 days full refund guarantee are included in the plan with no additional fee required.
2) JustHost
JustHost sale for the holiday is a 68% discount for the shared service which can be claimed by making subscriptions through this promotional link. With the discount applied, the price of Just Plan starts from $2.25/mo instead of the original $6.99/mo.
Besides, the company offers a large number of free features in the plan, such as $200 advertising credits for Google, Facebook and Bing, 1 domain name registration, instant setup, a drag-and-drop website builder, and 24x7 technical support. An anytime money-back guarantee is also provided to ensure the service quality and purchase security.
3) InMotion Hosting
InMotion has released an over 55% discount for the business-class shared services. Priced from $7.99/mo, $9.99/mo and $15.99/mo respectively, the 3 plans are available from $3.49/mo, $4.49/mo and $13.99/mo for subscribers going through this promotional link prepared for Presidents' Day sale. Outstanding reliability and fast speed are the highlights of all services from this company.
The featured extras offered by InMotion are mainly free site transfer, $300 marketing credits, automated data backup service, a premium website builder, and the 90 days full refund policy.
About BestHostingSearch.NET
BestHostingSearch.NET is an independent web hosting review site specialized in helping webmasters select the proper shared, VPS, dedicated server or reseller hosting service without being troubled by bad choices.