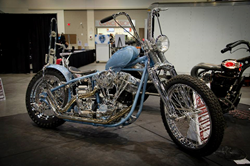 RALEIGH, N.C. (PRWEB) October 31, 2014
Last month, downtown Raleigh was the site of the largest motorcycle festival and custom bike show in North Carolina. More than 125,000 people attended Ray Price Capital City Bikefest, presented by Nationwide Insurance. Among the featured events, the Ray Price Motorsports Expo debuted a huge custom bike show inside the Raleigh Convention Center, attracting more than 30,000 attendees over three days.
The Motorsports Expo custom bike competition featured extraordinary motorcycles from professional custom builders matched with hobbyists to take home $15,000 in prize money.
First place winners at the 2014 Ray Price Motorsports Expo included:

Sportster Custom Stock: Gretchen Sutton, 2007 XL883R
Sportster Radical Custom: Robbie Closson, 2014 Holy City Designs Board Tracker
Big Twin Custom Stock: Ed Connor, 1991 Harley-Davidson FXR
Big Twin Radical Custom: Dale Torsell, 2010 Kenny Williams Custom Pro Street
Bagger Custom Stock: Steve Balch, 2012 Harley-Davidson Road Glide
Radical Bagger Class: One Time Customs, 2007 Harley-Davidson Street Glide
Metric Cruiser Custom Stock: Rick "Taz" Dunlap, 2010 Honda Fury
Metric Cruiser Radical Custom: Heather Morris, 1974 Honda CB750A
Sportbike Custom Stock: Tim Sutton, 2007 Suzuki GSX-R750
Sportbike Radical Custom: Lemuel Maynard, 2012 Suzuki Hayabusa
Antique: Chuck Reuben, 1951 Vincent Comet
Café: James Aswell, 1998 Ducati ST2
Bobber: Nathan Gastellum, 1999 Harley-Davidson Night Train
Road Devils Car Club Choice: Matt Harris, 40 Cal, 1955 Harley-Davidson FLE Chopper
People's Choice: Jason Beavers, Crazy Beavers Customs, 2011 Harley-Davidson Street Glide
Winners in the Invited Builders Class:

Also taking place during the Motorsports Expo, Ray Price Performance completed a live frame-up custom bike build over the 72-hour weekend. This special custom bike will tour the country in 2015 with Kangaroo Express' "Salute Our Troops" campaign and be brought back for next year's Ray Price Motorsports Expo and Capital City Bikefest to be raffled off for charity.
Professional custom bike builders from across the country participated in the inaugural Ray Price Motorsports Expo, including: 40 Cal (Alcoa, Tenn.), The Butcher Chop (Dry Fork, Va.), Crazy Beavers Customs (Clayton, N.C.), Cyclone Cycles (Houston), Gangster Choppers (Richmond, Va.), Garwood Custom Cycles (Lexington, N.C.), Holy City Designs (Summerville, S.C.), Ludwigsen Motor Co. (Stedman, N.C.), Kenny Williams Customs (Angier, N.C.), One Time Customs (China Grove, N.C.), T-n-A Customs (Sanford, N.C.), Vindictive Wayz (Rutherfordton, N.C.), and Widowmaker Custom Design (Rougemont, N.C.), among many others.
About Ray Price Capital City Bikefest, presented by Nationwide Insurance
Located in one of America's top cities, Capital City Bikefest is North Carolina's largest motorcycle festival. Named the nation's "Best Event" by Dealernews, Capital City Bikefest recently celebrated its 10th anniversary in downtown Raleigh with more than 125,000 people in attendance. Ray Price Capital City Bikefest has been presented by title sponsor Nationwide Insurance for the past eight years. Activities benefit nonprofits USO of North Carolina and U.S. Veterans Corps. http://www.capitalcitybikefest.com. On Twitter: @RayPriceHD.
About Ray Price Motorsports Expo
The Ray Price Motorsports Expo is hosted by Ray Price Harley-Davidson and takes place inside the Raleigh Convention Center during Capital City Bikefest. For more than 30 years, Ray Price Harley-Davidson in Raleigh, N.C. has served as one of the Southeast's top motorcycle dealerships and is home to Hall-of-Fame racing legend Ray Price. Staff has centuries of combined Harley riding experience to provide award-winning customer service and education programs for beginners-to-expert riders.