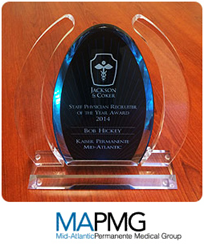 We applaud Robert and this year's nominees. They are the patients' true heroes.Sandra Garrett, President, Jackson & Coker
Atlanta, GA (PRWEB) November 19, 2014
As a result of his success, responsiveness and reputation among physicians and executives, Mid-Atlantic Permanente Medical Group's (MAPMG) Robert Hickey was named the 2014 Staff Physician Recruiter of the Year by national physician staffing firm Jackson & Coker. The award was created and sponsored by Jackson & Coker to draw attention to the critical and often unsung role staff physician recruiting professionals play in hospitals and healthcare facilities across the U.S.
Robert Hickey joined MAPMG as a physician recruiter in 2008. Since then, MAPMG has hired 700 physicians. Accolades in his nominations included,"Mr. Hickey represents the organization with class, distinction, integrity and hard work."
Upon receiving the call from Jackson & Coker letting him know that he was selected as staff physician recruiter of the year, Mr. Hickey stated he was "honored and very humbled by their selection." He continued, "It has been a lot of fun contributing to the Mid-Atlantic Permanente Medical Group, an organization recognized as a top health care delivery system in the region and a leader in the nation for health care quality. It is quite an honor to be recognized by colleagues outside the organization for my efforts." When not recruiting physicians, Mr. Hickey is active in many local civic associations. He also incorporated two non-profit organizations -- A Circle of Friends, Inc. to help those in treatment for cancer manage their expenses, and the Atlantic Regional Border Collie Rescue.
Nominations were made by hospital administrators and physicians from across the country through an online survey tool. Mr. Hickey was selected among all nominees reviewed by an independent panel of healthcare executives. They reviewed the narratives of each submission to determine whose efforts and dedication set them at the forefront of the in-house physician recruitment field. The quantity of nominations did not impact the selections.
Finalists for 2014 included:

Arlene Macellaro, Augusta Health
Aymee Quinn, Asante Physician Partners
Colleen Powell, Inova Health System
Colleen Schmidt, Ozarks Medical Center
Emily Glaccum, Archbold Medical Center
Ken LeBlanc, Centura Health
Kimberly Salvail, Huntsville Hospital
Michelle Pittelli, McLeod Seacoast Medical Center
Ron Goodspeed, Exeter Hospital
"We applaud Robert and this year's nominees. They are the patients' true heroes," said Sandra Garrett, president of Jackson & Coker.
About Jackson & Coker
For over three decades, Jackson & Coker, a leading locums and permanent placement physician employment firm, has provided doctors for a day, a lifetime, or any of life's changes in between. The firm ensures that both patients' needs and physician career goals are met and by uniting doctors with the hospitals and medical facilities that hire them.
The physician recruitment company has earned a national reputation for placing exceptionally qualified doctors in commercial and government practice physician job opportunities. Recruiters work in two divisions: Permanent placement, which recruits doctors in over 40 medical specialties for permanent physician jobs, and locum tenens, a staffing model that recruits physicians for temporary doctor jobs. With a broad range of physician staffing experience in all specialties including Psychiatry jobs, Hospitalist jobs, Internal Medicine jobs, Surgery jobs, Family Practice jobs, Anesthesia jobs and Radiology jobs, Jackson & Coker specializes in jobs for physicians at any stage of their professional career.