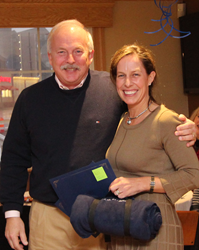 Bethany Beach, DE (PRWEB) February 28, 2014
ResortQuest Real Estate recently announced its 2013 top producers at its annual year-end awards meeting in Bethany Beach.
Bill Hand of the Marketplace at Sea Colony office was the company's big winner on the night, earning the Top Producer Award for posting $16 million in total listing and selling volume. Hand earned top honors for listings sold in 2013 by posting $12.8 million in listing sales volume. He was also the award winner for highest new listing volume for the year with $19.7 million.
Top sales honors in 2013 on the selling side went to Colleen Windrow of the Marketplace at Sea Colony office, who posted $8.5 million in sales.
Rounding out ResortQuest's top producer honorees were:
Top Producer Award: Windrow with $13.3 million; Robert Kauffman of the Bethany Beach office with $9.9 million; Dayna Feher of the Bethany Beach office with $8 million; Cindy Spieczny of the West Fenwick office with $7.9 million; Tammy Hadder and Anna Meiklejohn of the Marketplace at Sea Colony office with $7.4 million each; Linda Quasney of the West Fenwick office with $7.3 million; Nicole Peterdozzi of the Marketplace at Sea Colony office with $6.3 million and Marc Grimes of the Bear Trap office with $6.2 million.
Top listing volume sold: Kauffman with $7.1 million; Window with $6.7 million; Spieczny with $5.8 million and Hadder and Meiklejohn with $5.3 million each.
Top new listing volume: Feher with $16.5 million; Brendan Crotty of the Bethany Beach office with $7.3 million; Windrow with $6.9 million and Hadder & Meiklejohn with $6.1 million each.
Top sales volume: Hand with $8 million; Kauffman with $6.3 million; Nicole Peterdozzi of the Marketplace office with $5 million; Linda Quasney of the West Fenwick office with $4.9 million and Feher with $4.6 million.
Special recognition was also given to Marc Grimes who has been in real estate for over 40 years and to Sandy Greene with 30 years.
"The entire ResortQuest Sales Team should be congratulated," said Brigit Taylor, Broker of Record for ResortQuest, "It is an honor and privilege to work with the best sales team in our area."
To congratulate these award winners, please visit one of ResortQuest's real estate offices located conveniently throughout Southeast Sussex County, Delaware.
ResortQuest Real Estate is a real estate leader in southeast Sussex County since the early 1970s. ResortQuest provides comprehensive real estate services, including residential and commercial sales, vacation and long-term rentals and homeowner association management.
For the latest on real estate in the resort and inland areas of Sussex County, visit their locations at 33012 Coastal Highway or call 302-539-8600; Marketplace at Sea Colony at 33546 Marketplace or call 302-541-8999; Edgewater Lobby at L1- Edgewater House Road or call 302-541-8880; West Fenwick at 37458 Lion Drive, Suite 7 or call 302-436-1100; or Bear Trap Dunes at 21 Village Green Drive or call 302-541-5454.
They can also be found on the web at ResortQuestDE.com, on Facebook, or on Twitter @RQDEMD. Download ResortQuest's free mobile real estate search application by texting QUEST to 87778. For information on starting a career in real estate, contact Taylor at 302-541-8780 or visit http://www.ResortQuestDE.com.
About ResortQuest Real Estate®, Delaware & Maryland
ResortQuest Delaware Real Estate, LLC, a subsidiary of Wyndham Vacation Rentals North America, LLC, has provided real estate sales, vacation rental and homeowner association management services to Bethany Beach, Sea Colony and other fine communities in Delaware's Quiet Resorts, Maryland and the surrounding coastal areas since the early 1970s. Its affiliate ResortQuest Delaware, LLC's homeowner association management division represents the needs of more than 3,700 homeowners in 45 associations from Lewes to Fenwick Island, Del. Wyndham Vacation Rentals®, the world's largest professionally managed vacation rentals business providing access to more than 100,000 vacation rental properties in over 600 unique destinations worldwide, is part of Wyndham Exchange & Rentals® and the Wyndham Worldwide family of brands. For additional information visit our media center or wyndhamvacationrentals.com. Wyndham Vacation Rentals also can be found on Facebook.