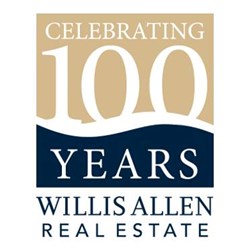 Each of us at Willis Allen is proud of our company's heritage, to our unwavering commitment to sage and appropriate counsel, and to our strong support of our local communities.
La Jolla, CA (PRWEB) January 17, 2014
The independently owned Willis Allen Real Estate is celebrating its centennial year. Founded in La Jolla, Willis Allen has been a continuously operating and highly successful real estate brokerage in San Diego County since 1914.
"It's such an incredible milestone, and one we've been anticipating for a long time," says Willis Allen President & Owner Andrew E. Nelson. "It's made me sentimental about this company, about my personal history with it, and about the people who are at the core of its success."
Much has changed since Willis Allen first opened its doors, but one thing has stayed consistent, according to Nelson. "We remain committed to hiring the best and brightest agents – and going above and beyond for our clients."
Nelson says many of the Willis Allen agents have been with the company for 20-plus years, while a few have been associates for 30 years or more. "The supportive environment and tremendous respect for our peer group is imperative to maintaining our success for the next 100 years," says Nelson.
Willis Allen Real Estate has literally made its mark on the San Diego landscape. The company was one of the major partners in the famed La Valencia Hotel and helped fund the Crystal Pier in Pacific Beach. Additionally, Willis Allen brokered a land deal in what eventually became Clairemont. "Being a significant part of the community is a hallmark at Willis Allen," explains Nelson. "Through many decades our sales staff has committed itself to the support of our community by volunteering their time, talents and treasures to hundreds of local non-profit groups, which is something I'm tremendously proud of."
Nelson joined the company in 1977, and his kids grew up in the real estate business. His sons, Drew and Tim, are now associates at the company. "Our family is committed to ensuring that Willis Allen will be here for years to come – focused on our clients and on our communities."
To learn more about Willis Allen Real Estate visit http://www.willisallen.com.
About Willis Allen Real Estate
Willis Allen Real Estate is one of San Diego County's oldest and most prestigious real estate firms and has been serving San Diego County since 1914. The brokerage is headquartered in La Jolla with additional branch offices in Coronado, Del Mar, Downtown San Diego, Point Loma and Rancho Santa Fe. Willis Allen Real Estate is an exclusive affiliate of Christie's International Real Estate, the world's leading luxury real estate network that was founded in 1766, and Leading Real Estate Companies of the World and Luxury Portfolio.