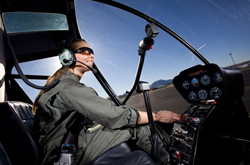 When I was seven years old, my mother bought me a toy space shuttle to commemorate the first-time a woman, Eileen Collins, commanded the space shuttle. Her historic flight on television was so inspirational; I knew right then I wanted to fly!
Prescott, AZ (PRWEB) February 26, 2014
Celeste Hadley was awarded the Erickson Air Crane Vertical Reference Flight Training Scholarship at the Whirly-Girls Banquet at the 2014 HELI-EXPO which was held in Anaheim, CA.
This year's Erickson Air Crane Vertical Reference Flight Training Scholarship recipient is a senior at Embry-Riddle Aeronautical University in Prescott, AZ, majoring in Aeronautical Science/Helicopter Flight Specialty with a minor in "Applied Meteorology." While carrying a full load of academic courses, she has also completed her Private Helicopter License, Instrument Rating, Commercial License, Certified Flight Instructor, and Certified Flight Instructor Instrument rating. In addition, she was hired in September as a ground school instructor with Universal Helicopters, Inc.
Hadley was brought up to believe the most honorable and important mission in life; is to serve others. Her goal is become a fire service aviator. She hopes to eventually work for a local, state, or federal fire agency as a helicopter pilot providing air support. Celeste aspires to carry on the honorable tradition of the fire service from the sky! She realizes these positions require the very best flight operational skills and experience. Therefore, she hopes to work in the industry in a variety of positions, so she may obtain the expertise necessary to be chosen for this select cadre.
"The scholarship I was awarded will provide vital training for both my aspirations as a fire suppression pilot and enhance my chances to be chosen for positions requiring these skills in the industry," Celeste commented.