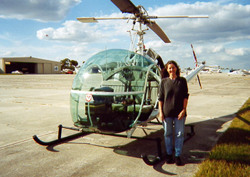 (PRWEB) February 26, 2014
Joanna Gollin was awarded the P&S Agricultural Services Inc. Flight Training Scholarship at the Whirly-Girls Banquet at the 2014 HELI-EXPO which was held in Anaheim, CA.
This year's P&S Agricultural Services Inc. Flight Training Scholarship recipient is a commercial helicopter pilot and CFI. She is from Scotland where she and her husband still own a B&B on a remote island off the west coast. She first became interested in helicopters when pilots who were working at the local salmon farms, would stay at the B&B. A joy flight with one of these pilots in 1992 inspired Joanna to take her first flying lesson during a visit to California.
It took time, but eventually with all the necessary qualifications, Joanna set up a small business in Florida. She started with a large bank loan, a reconditioned Hiller helicopter and a contract with a local radio station for traffic reporting, but soon also flew for aerial photography, power line patrol and sightseeing. She was also recruited by the company who reconditioned her helicopter, and became involved in all aspects of marketing helicopters, flying customers and flight instruction.
Gollin applied for the Whirly-Girls Agricultural Services Flight Training Scholarship for an opportunity to expand her career in a new direction and find future employment in a different sector of the industry. After more than twenty years of flying and twelve years of providing flight instruction, Joanna realized that she was ready to learn some new skills herself and take on some different responsibilities and fresh challenges. This scholarship will give her the foundation for the expertise and techniques required in all agricultural services, and will make her a viable contender in that job market. She is extremely grateful to the Whirly Girls for considering her a worthy candidate for this award and for the opportunities this will provide.