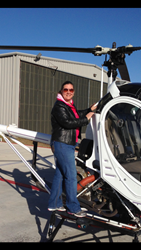 "Courage is not simply one of the virtues, but the form of every virtue at the testing point."-C.S. Lewis
The Woodlands, TX (PRWEB) February 26, 2014
Joni Schultz was awarded the Bell 206 Factory Flight Training Scholarship at the Whirly-Girls Banquet at the 2014 HELI-EXPO which was held in Anaheim, CA.
This year's Bell 206 Factory Flight Training Scholarship recipient is a 1993 graduate of Embry-Riddle Aeronautical University with a Bachelor of Science in Management and the FAA Flight Dispatcher Certificate.
Shortly after graduation, she was offered a full time position with Associated Aviation Underwriters at their Atlanta GA branch office as an Aviation Insurance Underwriter for the Corporate Aviation division. Joni earned my Private SEL rating in 1993. After her marriage in 1995, we moved to the Northeast and I took a position with another regional airline as a flight dispatcher for a short time.
Schultz joined the Women In Aviation (WAI) organization and then got involved in the local Houston Chapter. Shortly after joining, she became the membership chairperson, in 2010, she was voted in as the chapter President and held that position until June 2012. During her tenure as the local chapter President, our chapter experienced 50% growth.
Joni completed my Rotorcraft add-on rating in August of 2011. She was ecstatic to join the Whirly Girl's as a full fledged member.