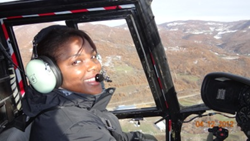 Gauteng, South Africa (PRWEB) February 26, 2014
Laura Ilunga was awarded the FlightSafety International Bell 206 Initial Pilot Scholarship at the Whirly-Girls Banquet at the 2014 HELI-EXPO which was held in Anaheim, CA.
This year's FlightSafety International Bell 206 Initial Pilot Scholarship recipient began her dream of an aviation career in the South African Air Force (SAAF) in late 2004 when she was accepted into the SAAF pupil pilot program.
She then obtained a one year certificate in Bachelor of Military Studies: Technology and Defence Management majoring in Aeronautical Science at the South African Military Academy through the University of Stelenbosch. The last phase of her training was on the Pilatus PC7 MkII (Astra) at Central Flying School Langebaanweg, where on completion of a year of the flying phase of the pupes course, Laura was awarded her Pilot Wings in July 2007.
She was then streamed to helicopters and attained her Private Pilot License (PPL) through Starlite Aviation, with the second phase of her helicopter training being completed in March 2008 at the SAAF's 87 Helicopter Flying School on the military medium transport Atlas Oryx helicopter, as only the country's second non-­white female helicopter pilot at the time.
As an operational pilot of 15 Squadron, home based at Air Force Base Durban from 2008 until early 2013 when she resigned from the SAAF, Laura flew many national, international and United Nations military missions as a co-­pilot on the Oryx helicopter. These missions involved mountain and sea rescue operations, fire fighting, undersling operations, night specialist operations (NVG), VVIP transportation, and casualty and medical evacuations.
In October 2012 Laura was awarded her first military medal, the South African National Defence Force (SANDF) Tumelo Ke Katghleho, a General Service Medal, for distinguished military service directly or in support of a military operation.
With just over 1000 total flying hours, Laura also holds a South African ICAO Single-­Engine Airplane Commercial Pilot License, a Multi-­Engine Helicopter Commercial Pilot License, as well as an FAA PPL validation. Crew Resources International (CRI) now employs her as a contract helicopter pilot flying Starlite Aviation helicopters for the European Union Rule of Law Mission (EULEX) in Kosovo for the prestigious 'South Africa's Most Influential Women in Business and Government Awards'.
Merely a year out of the SAAF, Laura is trying to establish herself within the civilian helicopter industry.