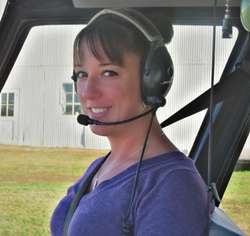 I aspire to establish my career playing in the peaks.
Grand Lake Co, Oklahoma City, OK (PRWEB) February 26, 2014
Sarah Raffaelli was awarded the Advanced Mountain Flight Training Scholarship at the Whirly-Girls Banquet at the 2014 HELI-EXPO which was held in Anaheim, CA.
This year's Advanced Mountain Flight Training Scholarship recipient was born and raised in the mountains of Colorado. After graduating high school she lived in Hawaii and upstate New York for some time. When she moved back to Colorado following college, she discovered the rotorcraft aviation community.
"I took an intro flight and as every helicopter pilot knows, from that moment on, I was hooked," she said. "I finally knew what I wanted to be when I 'grew up'."
While she was working on her commercial rating, they would go fly into the mountains. Sarah loved it! There is the obvious beauty, but she truly enjoyed the challenge of it. There was never that 'auto-pilot' moment of straight-and-level over 'auto to anywhere' flat terrain. Even with that limited actual mountain time she noticed a vast improvement in her skill set.
Raffaelli believes mountain flying is what will make her the best pilot she can be. Unfortunately, being a low time pilot she must to go wherever the jobs take her. Thus far this has included southeast New Mexico, West Texas and Oklahoma.
She considers herself very grateful for the opportunities she has had, but Sarah would love to utilize this scholarship to receive the proper training necessary to redirect her career back to the challenging flight environment that no other terrain has to offer like the mountains.