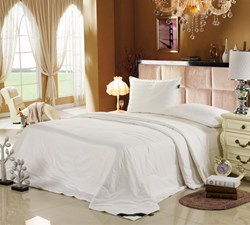 take the 2013 best comforters home
Springfield, MO (PRWEB) September 04, 2013
Lilysilk is a leader in the industry of silk comforters. Yesterday, the company added three styles of winter silk comforters to its 2013 silk comforters collection. These new items come in different shells but all are delicately designed. A poll conducted online by Lilysilk recently showed that almost 65% of customers prefer to choose silk comforters this year.
Silk comforters are beneficial for those who suffer from allergies, and "hot flushes" caused by menopause. Lilysilk comforters are made from high-quality pure silk floss, and have exquisite craftsmanship. These silk comforters have three shells, namely, cotton shell, silk shell, and jacquard silk shell. According to Mike, the CEO of Lilysilk company, the shell is different from the duvet cover. The comforter shell can not be removable, and tacked with the silk floss every eight inches to stop the silk from moving inside the shell.
Mike says, "All our comforters are crafted from Grade A mulberry silk. We make it for customers who are suffering from skin problems. Sleeping with this 100% pure silk comforters, you can get moisturized skin and glossy hair. So, do not hesitate to take a few minutes to browse through our website, and take the 2013 best comforters home."
The company has a vast knowledge of craftsmanship and customer needs, and claims that its mission is to meet customers' needs by offering stylish and various silk beddings and comforters. Lilysilk suggests customers to use a silk duvet cover outside to enlarge the silk comforter's life span. Besides, there are many duvet covers on the Lilysilk website, available in 16 colors.
About Lilysilk
Lilysilk is a leading brand of silk comforters with years of experience in manufacturing comforters by hand. Delicate craftsmanship, good service, high quality, and free delivery, are the reasons to choose Lilysilk.
For more information, please visit: http://www.lilysilk.com