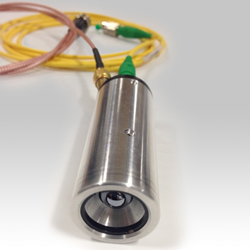 The sensors are designed for high-volume and low-cost production, making them attractive for industrial automation sensor applications
(PRWEB) September 09, 2014
TeTechS Inc (http://tetechs.com) a terahertz technology solution company, and TerahertzStore.com (http://www.terahertzstore.com) the first online store for terahertz components and equipment, announced today that they released their fiber-coupled terahertz photoconductive antenna sensors.
TeTechS' Fiber-coupled T-Era series terahertz photoconductive antenna sensors are used to generate and detect electromagnetic waves at the terahertz frequencies to be used for industrial and scientific applications. The sensor chip dyes are made on novel semiconductor material systems and are packaged inside patent pending fiber-coupled enclosure designs, making the sensors superior in performance and easy to use. The enclosure module houses the sensor chip dye with a collimating high-resistive silicon lens attached to the back side of the chip dye, an FC/APC fiber connector, and optical collimating and focusing lenses. The device is packaged in a modular format so that it is easy to replace the sensor chip dye inside the enclosure at a fraction of cost. The standard Ø1" threaded body makes it convenient to attach the sensor to other standard optical components.
"Our fiber-coupled sensor design is robust, versatile, and insensitive to the mechanical vibrations, an important feature for real-world industrial applications. The sensors are designed for high-volume and low-cost production, making them attractive for industrial automation sensor applications," says Dr. Daryoosh Saeedkia, founder and CEO of TeTechS Inc. "Our terahertz sensor gauges are contactless sensor solutions that allow original equipment manufacturers (OEMs) and system integrators to build high-tech manufacturing lines that can see sub-surface and hidden defects and voids in a wide-range of materials including ceramics, composites, glass, wood, and plastics," said Saeedkia.
About TeTechS Inc.
TeTechS Inc. is a leading innovator of advanced terahertz technology solutions committed to developing sensor solutions for industrial and scientific applications. TeTechS Inc. draws on the distinctive characteristics of leading-edge terahertz technology to develop unique non-destructive and non-invasive sensor solutions that uses terahertz waves to find previously undetectable objects and defects in industrial manufacturing processes improving productivity and profitability. The sensors can identify materials in mixtures and composites by resolving their unique terahertz spectral signatures. The Customers' problems can be solved in ways that cannot be address by other imaging modalities such as X-Ray and infrared imaging. The company's vision is to become a major terahertz technology solutions provider to the industries worldwide through developing innovative sensor solutions.