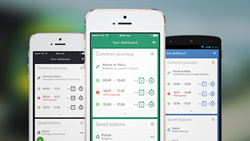 'For too long it's been 'one size fits all' and we know everyone's travel habits are different.' - Gillian Singh, Go-Ahead Group Marketing Director
London, UK (PRWEB UK) 25 January 2014
For rail passengers, negotiating timetables, ticketing and service updates en route can be a slow and frustrating experience.  Working with transport company Go-Ahead Group, mobile software specialists The App Business (TAB) saw a clear opportunity to introduce an app that was faster and much more personal, reflecting users' individual travel needs.  The result is On Track: a free, fast and smart journey planning and travel information experience available now from Google Play and the App Store.
Understanding that speedy access to travel information, delivered smoothly on the move, was key to making a rail journey easier and more enjoyable, TAB's approach focused on removing unnecessary steps. This allows a passenger to get to the information they need faster.  An intuitive dashboard, which can be personalised, surfaces real-time information immediately upon opening. The dashboard presents train times, platform information and live service updates for regularly travelled journeys without a user even needing to ask. Powered by data from Go-Ahead, National Rail Enquiries, and Transport for London, the app covers the entire national UK rail network. On Track is available for both iOS and Android phones and comes branded for each of Go-Ahead Group's three rail companies, Southern, Southeastern and London Midland.
It's not just about arrival and departure times, either: with On Track, a user can see exactly where their chosen train is at any point along its journey. The route is shown on an interactive map, with stops and interchanges of each individual journey 'leg' clearly marked. With an easily accessible secondary menu, contacting customer services, submitting a 'Delay Repay' claim and even paying for car parking at Go-Ahead Group stations is only a tap away - and direct from the smartphone in your pocket. As a result, On Track looks and feels less like a train app and more like an 'intelligent' travel assistant.
Developing On Track began with an extensive audit, analysing apps already available to tavellers across rail and other transport modes. As Strategy Director and Founder at The App Business, Daniel Joseph, explained: "One problem was immediately apparent: rail apps couldn't be effectively configured to reflect passengers' individual daily habits and requirements. This made tracking down frequent information slow and repetitive." Heavily menu-led, many apps were generic and hid core information behind excessive amounts of 'chrome' - the fixed aspects of the design that surround content, like navigation, branding and adverts. Go-Ahead's Group Marketing Director, Gillian Singh, added: "For too long it's been 'one size fits all' and we know everyone's travel habits are different...Passengers have appreciated the personal touches - the ability to nickname stations and add personalised icons, showing how long you have to catch your train on a stopwatch that even recalculates your time if trains are delayed."  
In order to deliver a best-in-class experience, it was essential to put user's needs at the heart of the development process. The team recruited volunteers from existing passenger networks and conducted face-to-face interviews throughout the whole development process to ensure that feedback and real behaviours were considered. Designs underwent multiple iterations in response to comments from these sessions, with the result that On Track is genuinely an app designed for passengers, by passengers.  
Produced by Southeastern Railway, you can watch a short video of On Track in action here.
About The App Business - Founded in 2009, The App Business (TAB) is an award-winning, full service mobile software specialist company. Building long-term partnerships with the world's biggest brands, TAB creates consumer-facing and enterprise level business applications that consistently break new ground in mobile technology. TAB's comprehensive in-house offer spans the full suite of services necessary for genuine app success: from strategy, design and engineering to content development, marketing and analytics.