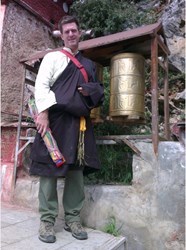 Tibet travel, more information is available on http://www.tibetctrip.com/tibet-travels-tips.html.
(PRWEB) December 03, 2013
Tipping customs vary greatly across popular travel destinations. As travelers around the world begin planning their 2014 tours of Tibet Lhasa local Tibet travel agency Tibet Ctrip Travel Service-TCTS (http://www.tibetctrip.com) discusses who to tip while travelling in Tibet and how much.
As the 2014 Tibet travel season approaches travelers around the world have begun planning their tours of Tibet. While planning a tour of Tibet travelers frequently ask how much they should tip tour guides, drivers, and other travel support staff. Tipping customs can vary greatly from place to place leaving travelers wondering when a tip is appropriate. According to Tibet Ctrip Travel Service-TCTS (http://www.tibetctrip.com) travelers are not obligated to tip, however, in Tibet good service deserves a good tip.

It's appropriate to tip a hotel porter 10-20 RMB and 15-20 RMB is a good tip for maid service over a 2-3 day hotel stay. Over longer stays a bigger tip may be appropriate. Tip the porter after they bring the luggage to the room and the maid's tip can be left in the hotel room when checking out.
Quality Tibet tour guides and drivers are key to a successful trip! About 60-70 RMB per day is a good tip for a guide and 40-60 RMB per day is a good tip for a driver. For guides, small gifts from a travelers' home country are also great to give! Many foreign name brand items like hats, t-shirts, and bags are very popular in Tibet. TCTS encourages to have special consideration for larger groups and outstanding service. Many trekking tours require a yak person to be hired, 150-250 RMB is a good tip.
During the high season guides and drivers can be booked on back-to-back tours. Its best to tip them on the day before the travel group departs Tibet.
Many Tibet travel support staff do their part to help travelers enjoy their time in Tibet. These workers often times depend on income from the tour season to last throughout the whole year; if travelers are satisfied with the service they've received an appropriate tip is customary. While visiting Tibet in 2014 be sure to support the Tibetan community by giving good tips for good service.
Devin Moore is a travel writer based in Denver, Colorado. Devin publishes Tibet travel related information and wish to spread awareness of Tibet and its people.