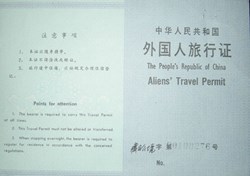 TCTS arranged about 30 Tibet travel permits each month from April to September 2013.
Lhasa, Tibet (PRWEB) September 04, 2013
As autumn comes to Tibet, Tibet travel permits have been a source of travelers' questions and concerns. Autumn is a fantastic time for travelling in Tibet; blue skies and crystal clear mountain landscapes make for perfect trekking and overland adventures! Foreign visitors will be required to obtain a travel permit before entering Tibet; to help travelers prepare for their Tibet Ctrip Travel Service-TCTS (http://www.tibetctrip.com) discusses the details.

Travel groups will need to provide copes of their passports and Chinese visa pages, if these documents are unavailable at the time of booking please send them as soon as possible.
TCTS says that a travel permit can be thought of as a Tibet visa, it will be checked when boarding trains or checking into flights if travelers are arriving from Mainland China. It will be necessary for travelers to stay at least one night in China before departing for Tibet; the permit will be mailed to their hotel. If arriving form Nepal, the group's guide will meet them at the border or the airport; permits will not be mailed internationally.
Groups of any size can now be issued a travel permit, even individuals. However Tibet Permit 2013 regulations indicate that travel groups consisting of different nationalities may not be able to enter Tibet on the same permit. Also certain individuals such as foreign diplomats and journalists may need special permission to enter Tibet. TCTS can provide details before booking.
Travelers agree that obtaining a Tibet travel permit is simple and straightforward while it may seem at first confusing. A travel agency will apply for all necessary permits, all travel groups need to do is ensure that they submit copies of passports and Chinese visa pages for each group member. TCTS welcomes any and all Tibet travel permit related questions; with autumn coming, travelers are encouraged to start planning their trip now!
Devin Moore, author of this release, is a travel writer and independent economic analyst based in Denver, Colorado USA. In partnership with local Tibet travel agent TCTS (tibetctrip.com), Devin publishes Tibet travel related information in order to spread awareness of Tibet and its people.