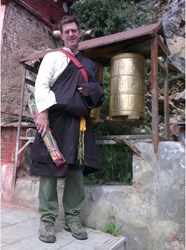 To learn something about tipping when travelling in Tibet is helpful.
(PRWEB) January 03, 2014
The 2014 Tibet travel season is quickly approaching and travelers around the world have begun planning their tours. Tipping customs can vary drastically across many of the world's most popular travel destinations; frequently, travelers ask whom they should tip while travelling in Tibet and how much is appropriate. Tibet Ctrip Travel Service-TCTS has been operating tours of Tibet for over ten years and emphasizes that travelers are not obligated to tip, but according to local customs, good service deserves a good tip.

Tour guides who are enthusiastic and passionate about sharing where they come from are an integral part of a quality tour. If the group is satisfied with the service they have received 60-70 RMB per day is a good tip and 40-50 RMB per day is good for the group's driver. If the travel group is large please give special consideration while tipping! It's best to tip on the day before departure; sometimes guides and drivers are booked back to back, in these cases it may necessary for another guide to see the group off at the airport.
It's also appropriate to tip hotel staff. About 10-20 RMB is appropriate for tipping a porter when they bring luggage to the room. For maid service 15-20 RMB over a 2-3 day stay; a bigger tip over longer stays is appreciated..
Some trekking tours require hiring a yak person to carry equipment, 150-200 RMB is a good tip.
Tibet travel staff work very hard to help ensure travelers enjoy their tour. Often they depend on income from the tour season to support their family for throughout the whole year. If travelers enjoy the services they have received an appropriate tip is customary. Tips can go a long way to support the Tibetan community, while travelling Tibet be sure to give good tips for good service!