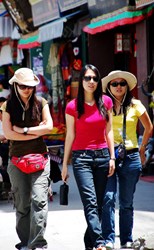 Tibet travel tips: Who to tip and how much.
(PRWEB) August 12, 2013
When planning a Tibet travel travelers often ask how much they should expect to tip guides, drivers, and other travel support staff. Tipping customs vary greatly throughout the world often leaving travelers wonder when a tip is appropriate and how much to give. Tibet Ctrip Travel Service-TCTS (http://www.tibetctrip.com) says that travelers are not obligated to tip; however, in Tibet, good service does deserve a good tip. TCTS outlines general guidelines for travelers to consider when giving a tip.

At a hotel, 10-20 RMB is an appropriate tip for a porter. Around 15-20RMB is a good tip for the maid over a few days' stay; for longer stays a larger tip may be more appropriate. It's best to tip the porter when they bring luggage to a room and the maid's tip can be left in the room when travelers depart.
Quality guides and drivers are the cornerstone of a Tibet tour. Around 55-65 RMB per day for a guide and 30-50 RMB per day for a driver is an appropriate tip. Travelers are encouraged to give special consideration for outstanding service or if their group is large. Some trekking tours require yak support, 100-200 RMB (depending on length of the trip) is a good tip for the yak person.
While cash is always appreciated small gifts from a traveler's home country are also great tips for Tibet travel support staff. Many brand name items are very popular in Tibet and can be hard to come by, these can include: hats, t-shirts, perfumes/colognes, and bags.
Those in the Tibet tourism industry work very hard to help ensure travelers enjoy their time in Tibet. Tipping is an important source of income for these workers as many depend on income from the tour season to support them throughout the whole year. While there is no explicit obligation to tip, if a travel group is satisfied with the service they have received then an appropriate tip is customary. Now that the season for tours of Tibet is in full swing, travelers are encouraged to support the Tibetan community by giving good tips for good service.
Devin Moore provided this news release above on behalf of local Tibet travel agency TCTS (tibetctrip.com). Devin is a travel writer and independent economic analyst based in Denver, Colorado USA. Devin Moore works to spread awareness of Tibet and its people through publishing Tibet travel information.