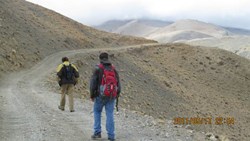 Students explorer in Tibet, learn more with professional agent www.tibetctrip.com.
(PRWEB) December 21, 2013
A Tibet travel can be a fantastic way for students to gain the global perspective they need to stand out from their peers. Travelling in Tibet opens up opportunities for cultural discovery along with chances to connect with its astounding natural beauty. Lhasa based tour operator TibetCtrip Travel Service-TCTS (http://www.tibetctrip.com) has experience working with student travelers and discusses some of its new tours for the 2014 Tibet travel season.

4-6 Day Tibetan Buddhism and Culture Tour: Travel groups will begin their adventure in Lhasa where they will have time to acclimatize to the altitude. The group's native Tibetan guide will help them discover places like Potala Palace, Jokhang Temple, along with Sera and Drepung Monasteries. After exploring Lhasa travelers will head for Yarlung Valley, legendary origin of Tibetan civilization and home to sites like Yungulakang Palace and Tramdruk Monastery.
7-10 Day Everest Base Camp Tour: This world famous Tibet tour packages cultural experiences and some of Tibet's best scenery all into one. Travelers will become oriented with Tibetan culture and history as they enjoy sightseeing in Lhasa, then head for Everest base camp after acclimatizing to the altitude. Along the way stops will be made in Gyantse, to visit Pelkhor Monastery and Kumbum Pagoda, and Shigatse, Tibet's second largest city and home to Tashilhunpo Monastery. Once travelers arrive at Mt. Everest they will spend the night near its base and wake up early for views of the mountain!
Tibet provides seemingly endless opportunities to learn about its unique culture and stunning natural heritage. TCTS employs native Tibetan guides that welcome questions and are passionate about sharing where they come from, perfect for students looking gain perspective that most miss out on. The 2014 Tibet travel season is right around the corner, travelers are advised to start planning their adventure now!
Devin Moore, is a travel writer and independent economic analyst based in Denver, Colorado USA. Devin publishes Tibet travel related information in order to spread awareness of Tibet and its people. Having traveled to Tibet twice with friends through Tibet travel agency(http://www.tibetctrip.com), Devin highly suggests overseas travel agencies to work with Tibet Ctrip Travel Service and bring masses of travelers to support local Tibetan via travel.