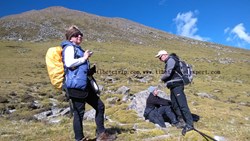 2014 trekking in Tibet, get the special offers from local experienced travel agency in Lhasa. Start inquiry now!
(PRWEB) November 18, 2013
It's time to start gearing up to trek Tibet in 2014! Travelers from all over have been raving about the breathtaking scenery on Tibet's treks. Whether travel group members are well-seasoned adventurers or just looking to test the waters many treks can be customized to suit nearly all experience levels. Tibet Ctrip Travel Service-TCTS (http://www.tibetctrip.com) has been operating professionally guided Tibet treks for over ten years and is here to help travelers get started with planning their adventure.

Take time to learn about the different Tibet treks; each one offers a different experience. For example, those who make the adventure to Mt. Kailash will join religious pilgrims on the ritualistic trek around its base. Travelers who decide on the trek to Everest base camp will see the world famous Himalayas. There are a variety of treks to pick from, so pick the one that interests the travel group the most!
To ensure travel groups have an unforgettable experience it's best to choose a trek that corresponds with the group's interest and experience level. Travelers who are reasonably physically fit shouldn't have a problem completing most treks; however, some are better left to more experienced trekkers.
Travel with a quality tour operator. While a quick Internet search yields a variety of travel agencies, not all are equal. Trekking at high altitude places incredible demands on travelers' bodies; be sure the tour operator can take care of travelers needs and provide necessary equipment. Tibet travel agency TCTS provides gear like sleeping bags and tents while preparing hot meals and snacks that keep travelers nourished on the trail.
Many of those who are planning to visit Tibet would be surprised to find how easy planning a trek can be; the hardest part is choosing which one to go on! Regardless of experience level there's a Tibet trekking to fit nearly every travel group, all it takes is a reasonable level of physical fitness and an adventurous spirit. Next year's Tibet travel season is right around the corner, travelers are encouraged to start planning now.
Devin Moore, author of this release, is a travel writer and independent economic analyst based in Denver, Colorado USA. Devin publishes Tibet travel related information in order to spread awareness of Tibet and its people.