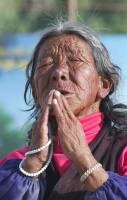 Tibet travel advice, you'd better learn more about Tibet before travelling there.
Lhasa, Tibet (PRWEB) November 07, 2013
Many travelers have discovered that one of the most exciting parts of Tibet travel is hunting down the perfect souvenir. Whether browsing the hustling and bustling alleyways of Barkhor Bazaar or buying from locals that line up on roadsides, visitors can find a wide variety of authentic Tibetan arts and crafts. Tibet Ctrip Travel Service-TCTS (http://www.tibetctrip.com) discusses some of the most popular souvenirs, where to buy them, and how to bargain for the best deal!
What to buy: Many travelers love to take home things like prayer flags, incense, and hand made jewelry while others hunt for deals on beautifully woven Thangkas or Tibetan Carpets. A short walk through Lhasa reveals the myriad of options that await travelers; there is truly something for everyone.
Where to buy: Authentic souvenirs can be found throughout Tibet but travelers agree that the best place to shop is Barkhor Bazaar. Most Tibet tour itineraries give travelers free time to explore and do some shopping. Roadside vendors sell interesting crafts and there is also a Tibetan market in Shigatse, while the selection is smaller prices are generally lower.
How to bargain: Bargaining is a normal business practice in Tibet and is as much fun for the seller as it is for the buyer. Most shops don't have set prices; foreigners who travel Tibet are typically offered very high prices at first. It's best to respond with an offer well below the initial offer and work up from there. Don't be afraid to walk away if the seller is unwilling to budge however please be respectful and remember that a few RMB means much more to them than it does to most travelers.
Exploring the crowded alleyways of Barkhor Bazaar or browsing the souvenir stalls in Shigtase's Tibetan market, finding the right souvenir, and then bargaining for the price is a thrilling experience. Travelers are encouraged to purchase from Tibetan owned shop, not only do they provide higher quality at lower prices but it also keeps money in the Tibetan community. There's something to fit every interest and budget so be sure to pick up some souvenirs while travelling in Tibet.
Tibet Ctrip Travel Service is Lhasa based Tibet travel agency and has over 13 years professional experience. Travelers are welcome to book a tour with the local agent to expect more than from outsiders. Devin Moore published above anouncement. Devin is a travel writer and independent economic analyst based in Denver, Colorado USA.