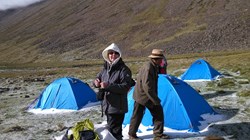 Trek Tibet in 2014, never miss the natural beauty on the highland! Welcome to contact www.tibetctrip.com.
(PRWEB) January 10, 2014
It's time to start gearing up to trek Tibet. Tibet is an adventure travel mecca that offering treks that cross some of the world's most beautiful landscapes. Careful planning and preparation is an important part of a successful adventure. Tibet travel agency TibetCtrip Travel Service-TCTS (http://www.tibetctrip.com) has been organizing professionally guided treks for over ten years and shares some tips for planning an unforgettable trekking tour.

Take time to learn about Tibet's most popular trekking routes. Focus on the ones that most closely match the travel group's interest and experience level. While inexperienced trekkers with a reasonable level of physical fitness can complete many Tibet treks some are best left for the more seasoned.
Carefully select a tour operator. A quick Internet search yields an endless list of travel agencies that offer treks, however not all are equal! For example, TCTS employs experienced native Tibetan guides and provides equipment like tents and sleeping bags all while making sure travelers remain well nourished along the trail.
Stay fit. Trekking at high altitudes over long distances can be very physically challenging. While this doesn't mean that one needs the strength and endurance of an athlete exercising a few times a week before coming to Tibet can go a long way. Once the trekking tour has started be sure to stay hydrated, bolster electrolyte levels with salty snacks, and move only at a pace the group is comfortable with.
Planning a successful Tibet trekking tour can be a relatively easy experience. A quality tour operator can help travelers decide which trek is best for the group and time of year they will be visiting. Arriving as fit as possible can drastically reduce the physical stress of hiking at high altitudes and allow travelers to enjoy the magnificent scenery. Prime time for trekking Tibet is coming up quick, now is the time to start planning.