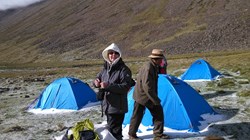 welcome to travel to Tibet with local tour agency www.tibetctrip.com!
(PRWEB) December 16, 2013
Thousands of travelers are gearing up to trek Tibet in 2014. Local Tibet Travel Agency-TCTS (http://www.tibetctrip.com) has been operating Tibet trekking tours for over ten years and says that careful planning and preparation is key to an unforgettable experience. A quality tour operator will be able to take care of details like travel permits, guides, and transportation allowing travelers to relax and enjoy Tibet's world famous mountain scenery. The 2014 travel season is coming up fast; TCTS shares some advice for planning.

When picking a trekking route be sure to note the difficulty level. While most treks can be completed by anybody with a reasonable level of fitness some are best left for more experienced trekkers! There are a variety of treks to choose from; the trek to Everest Base Camp and the Mt. Kailash pilgrimage are among the most popular and can be completed by most travelers.
The altitude difference can be big for some visitors. Most tours schedule time in Lhasa for sightseeing and acclimatization before trekking begins. It's best to rest and drink lots of water the first couple days. Taking time to exercise before a trekking tour can help make the altitude adjustment less challenging.
Be sure the tour operator can provide any trekking equipment that the group might need. TCTS provides things like tents, sleeping bags, and cooking equipment; this helps eliminate the hassle and risk of travelling internationally with expensive outdoor equipment.
A day of trekking combined with thin mountain air can place incredible demands on travelers' bodies so its important to remain well hydrated and nourished. If a group member has any dietary restrictions let the Tibet travel agency know ahead of time so they can be prepared to accommodate their needs.
Adequate planning and preparing for a trek helps travelers get the most out of their time in Tibet. A quality tour operator can help take care of details like travel permits, transportation, food, and trekking equipment leaving travelers to relax and enjoy the scenery. There are a variety of Tibet treks to choose from; often the hardest part of planning a trek is choosing which one to go on! With the 2014 Tibet travel season right around the corner it's time to start planning now.
Devin Moore, author of this release, is a travel writer and independent economic analyst based in Denver, Colorado USA. In partnership with local Tibetan travel agent TCTS (tibetctrip.com), Devin publishes Tibet travel related information in order to spread awareness of Tibet and its people.