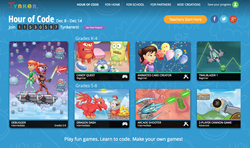 All kids deserve the opportunity to build the skills and confidence to create with technology, and we are proud supporters of the Hour of Code.
Mountain View, CA (PRWEB) December 05, 2014
Thousands of schools are participating in Hour of Code, a global initiative to get more kids engaged in computer science -- using Tynker's all-new set of free coding activities for kids of all ages, experience levels and interests. Tynker's unique approach motivates students to learn because they can create their own characters, animate them, and rapidly build their own games and interactive stories, using visual block-based programming.
The real excitement is best heard in the voices of students who previewed an Hour of Code with Tynker: http://player.vimeo.com/video/111775318.
"By learning problem-solving and critical thinking skills at an early age, today's kids will be prepared to develop solutions that will change the world they live in, solve important problems or even address humanitarian issues," said Tynker Co-founder and CEO Krishna Vedati. "All kids deserve the opportunity to build the skills and confidence to create with technology, and we are proud supporters of the Hour of Code."
Coding Activities for All Ages & Interests
Tynker's activities for the 2014 Hour of Code introduce programming concepts using a fun and intuitive approach. Younger students can focus on solving simple coding puzzles, and use what they learn to create interactive holiday cards, cartoon comics, simple games and stories. Older students can select coding projects that will guide them through the creation of drawing tools, math art and multi-level/multi-player games that they can share and play with each other. Immersive puzzle adventures include over 100 levels that introduce basic concepts such as sequencing, repetition, conditional logic:

Dragon Dash - Go on an epic quest for treasure with your own custom dragon.
Candy Quest - Design a candy troll and use programming to get the candy.
Trailblazer - Program your spaceship to trace various patterns and shapes.
Debugger - Help your character fight bugs and save the motherboard!
The interactive tutorial activities enable kids to express their creativity as they make their own games and apps to share and play with friends and family. Making their games work the way they want is excellent motivation for kids to learn new programming concepts.

Animated Card Creator - Create an interactive holiday card with special effects and animations.
Comic Creator - Make an interactive comic with speech bubbles and sound effects.
Arcade Shooter - Create a top-down arcade shooter game with bad guys and a good guy ship.
Brick Breaker - Recreate an arcade classic using physics, with multiple levels, sound effects and bonus bricks.
2-Player Cannon Game - Build a physics-based game with structures and knock them down with friends.
My Art Studio - Create a drawing tool with pen drawing commands and stamping.
Thousands of schools and partners are hosting Hour of Code with Tynker from December 8-14, including Minnetonka Public Schools, Palo Alto Unified, aSTEAM Village, Kidzworld, Education.com, Calvert Education, Children's Creativity Museum, and San Jose Public Library, using Tynker's wide variety of fun and engaging grade-appropriate activities.

About Tynker
Tynker's creative computing platform helps children develop computational thinking and programming skills in a fun, intuitive and imaginative way. Tynker is used by more than 10,000 schools and 10 million students. Tynker was founded by a seasoned team of technology entrepreneurs who share the passion for giving children the critical life skills needed to become leaders in the technologies of tomorrow.