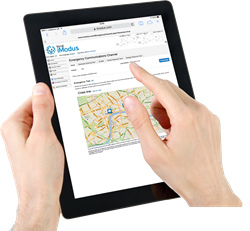 While a dark site traditionally refers to information prepared in advance of a situation, Emergency Channel takes the idea a step further by giving administrators the control to automatically post the latest content in real time
(PRWEB UK) 27 February 2014
Global business continuity software specialist Vocal has launched yet another innovative tool to help organisations minimise downtime and communicate vital information in the event of an incident.
Vocal's new product, known as Emergency Channel, is a corporate 'dark site' facility. When the lights go out and traditional systems grind to a halt during a business-affecting incident, stakeholders can go over to the dark site to find up-to-the-minute information about the status, progression, and relevant safety instructions of the incident in question.
"Providing information to staff on what to do and how to respond in an incident is a core element of any effective business continuity plan," says Vocal's Trevor Wheatley-Perry. "While a dark site traditionally refers to information prepared in advance of a situation, Emergency Channel takes the idea a step further by giving administrators the control to automatically post the latest content in real time."
The launch of Emergency Channel represents just one of several announcements which Vocal is introducing in 2014. New to 2014 is iModus Mobile Lite, which enables users to access the core functionality of iModus from any smartphone device without the need to download an application, and an improved set of IT Alerting facilities.
The iModus Suite has also been upgraded to version 2.15, meaning that a wide range of additional features and improvements is now available to users. From Twitter integration to interactive Incident Log reporting, "at a glance" messaging audits to more general module upgrades, Vocal has listened carefully to client feedback in order to create a more understandable, more capable, and more efficient system.
"Innovation doesn't stop on the release date of the product," says Trevor, "if we want to keep our reputation for forward-thinking ideas, it's vital that we keep upgrading and adding to iModus according to the needs of our clients."
To celebrate the launch of iModus Emergency Channel, Vocal is offering all iModus users a free trial. For more information on the offer, call Vocal on 0800 035 0081 or email sales(at)vocal(dot)co(dot)uk.
EDITOR'S NOTES:
About Emergency Channel:
The Emergency Channel is a corporate 'dark site', designed to inform and update a business' key stakeholders about a crisis or a potential business affecting incident.
Whilst a dark site traditionally refers to information prepared in advance of a situation, the Emergency Channel gives users complete control in keeping content up to date in real-time, automatically.
Administrative access to the site can be available to all or selected staff members, depending on the needs of the user. Complimented by Vocal's iCard, The Emergency Channel is the latest facility which places potentially life-saving, real-time information at stakeholders' fingertips during an incident.
The Emergency Channel offers users the ability to:

Publish information securely to stakeholders during an incident
Provide a single access point for all incident related information
Bring together key information such as maps, advice, key contacts and latest updates in a single, secure site
Personalise information for stakeholder groups
Provide another way for recipients to acknowledge notifications
Update information in real-time from any internet connected device
Audit access to Emergency Channel
Quickly update information displayed on corporate iCards
About iModus Version 2.15:
The new system upgrade of the iModus Suite is available now.
System Updates include:
Bookmarked 'Customer Login Page'
o The new customer login page will provide users with quick access to any system updates, 'What's New' or deployment notifications.

o Users can now choose to send selected notifications via Twitter. By simply asking Service Delivery to link their Twitter account to their group settings, clients can now tweet as part of their message sending facilities.

Improved Templated Messages
Simplified Voice Sending and Recording Capabilities
Interactive Incident Log reporting
o This involves the ability to overlay the traditional list view of logs with an interactive reporting panel, view graphical representations of selected data, include graphs in the export of incident reports, and export them in both PDF and Excel formats.

Incident Workflow upgrade
'At a glance' message send audit
o Within the summery page of their message audit, users are now able to view key message statistics such as the number of people and devices contacted and the percentage of messages acknowledged.
For more information, please visit: http://www.vocal.co.uk/system-updates-jan-2014/.