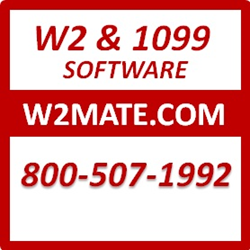 Download W2 Printing Software online at W2-Mate.com
Chicago, IL (PRWEB) January 05, 2015
W2 Mate® (W2-Mate.com / 1-800-507-1992) invites employers, business owners, payroll departments and local government entities to try the 2014 version of the software. W2 Mate® is W2 / 1099 processing system, which allows filers to print all copies of forms W-2 and W-3 on regular white paper including the official laser forms filed with the Social Security Administration. W2 Mate also makes it easy and fast for business filers to prepare, print and E-file 1099 forms including 2014 1099-MISC, 2014 1099-INT, 2014 1099-DIV, 2014 1099-R and 2014 1096.
Free W2 Mate software trial can be downloaded from http://www.W2-Mate.com/. Customers can purchase the software and receive it instantly.
The PDF W2 forms feature available in W2 Mate (http://www.W2-Mate.com/) makes issuing W-2s to employees as simple as sending email. No forms to print, no envelopes to stuff, no paper cuts, no postage and no headache. Just enter employee information, generate a PDF file and email. The PDF files generated by the W2 Mate W2 / 1099 compliance system are encrypted and require a password in order to be opened. This makes sending these files by e-mail or any other electronic means more secure. The electronic version of form W2 generated by W2 Mate contains all required information and complies with applicable IRS procedures.
Effective January 2015, the Social Security Administration will return electronic and paper wage reports which contain a W-2 with any of the following conditions: Medicare Wages and Tips less than the sum of Social Security Wages and Social Security Tips; Social Security Tax greater than zero and Social Security Wages and Social Security Tips equal to zero; and Medicare Tax greater than zero and Medicare Wages and Tips equal to zero.
W2 Mate Software Highlights:

Eliminates the need for buying Forms W2 Copy A and W3 by printing government-approved laser substitutes for these forms on plain white paper;
Eliminates need to print and mail recipient copies of 1099-MISC form or employee copies of W2 form. This software generates electronic employee copies of W2 Form and electronic recipient statements of 1099 MISC form in - Adobe PDF format with password protection for security purposes;
A Full 1099 software with support for an unlimited number of 1099 Filers and unlimited number of employees and 1099 recipients;
Supports 1099 Electronic Filing (1099 E-File) through IRS FIRE;
Supports W-2 Electronic Filing (E-Filing) through SSA Business Services Online;
Prints 1099 Form Copies & W2 Copies on blank paper;
Automatically generates 1096 and W3 Forms;
Imports data directly from QuickBooks, which removes the "800 Form" / "$10 Million payroll" maximum;
Complies with IRS Publication 1220 (Specifications for Filing Forms 1099 Electronically);
Complies with SSA Specifications for Filing Forms W-2 Electronically (EFW2);
Prints on pre-printed 1099 forms & W2 Forms;
Imports data for W2 and 1099 forms from CSV files;
Exports W2 and 1099 data (employer, employee, payer and 1099 recipient information) to Excel format
Give the W2 filing Software from W2Mate.com a test drive and see for yourself how easy W-2 reporting and printing can be. Visit http://www.W2-Mate.com/.