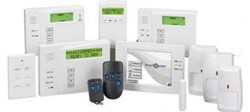 El Paso, TX (PRWEB) January 06, 2014
The growing popularity of wireless home alarm systems among homeowners drove experts at AlarmSystemReport.com to make an extensive review of alarm system companies that offer wireless solutions. As a result of this, the acclaimed review site has recently announced its 2014 Best Wireless Alarm System Companies.
AlarmSystemReport.com has chosen to award FrontPoint Security, Protect America, LifeShield Home Security, Vivint Home Security, and ADT Security as the top wireless alarm system companies.
Picking the best wireless alarm equipment manufacturer comes hand-in-hand with choosing the best home alarm system companies. The selection process was not easy and several factors were considered to be able to come up with an unbiased and truthful result.
Alarm System Report's wireless alarm system reviews covered every possible aspect of each alarm system company and wireless alarm system – from the company overview, strengths and weaknesses of the wireless alarm systems, customer service history, pricing details, and available discounts.
Alarm System Report's reviews were also designed to show readers the best ways to get the greatest deals possible for their wireless alarm system needs. The site knew the importance of saving more money during this economic time. It believes that customers shouldn't pay a lot for something that could be available for a cheaper price. This is why there is a section dedicated for the alarm system discounts and promos in each review.
After narrowing down your choices of wireless system through the reviews, Alarm System Report also provided readers with the complete contact information for each alarm company. It allows readers to submit their information directly on the site and wait for the alarm company of their choice to contact them. Submitting information through the Alarm System Report site could make customers eligible for additional price markdowns and incentives.
In Alarm System Report's point of view, these wireless alarm systems are generally more beneficial to homeowners compared to hard-wired alarm systems. The reviews provided on the site and the special blog posts on Wireless vs. Hard Wired Alarm Systems explained in detail why this was the alarm review company's opinion.
Alarm System Report also noted that the best form of alarm system is the wireless alarm system because it is easy to install and could be done without using tools, drilling, or wiring. Another reason is because it is much more affordable than a lot of other alarm systems. Third is because of its capability to add other devices as time passes by.
Aside from all the information cited above, Alarm System Reports also answered the following most frequently asked questions (FAQs) about wireless home alarm systems: What Is The Cost of A Wireless Alarm System? Can A Wireless Alarm System Be Easily Defeated? How Easy Is It To Install A Wireless Alarm System? How Are Wireless Alarm Systems Monitored? How Can I Learn More About Wireless Alarm Systems?
All the answers to these questions were answered truthfully and thoroughly at Alarm System Report's website.
About AlarmSystemReport.com
AlarmSystemReport.com is a resource website that aims to provide valuable and assessments of the different alarm system companies, especially those of the top companies in the industry. Rest assured that the review site is independent from the alarm system companies featured. Its reviews are certainly unbiased and transparent all throughout.