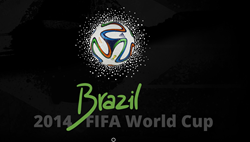 This World Cup had a few firsts, some new and broken records and some bizarre moments.
Fort Lauderdale, FL (PRWEB) July 22, 2014
The World Cup has come to an end and with its conclusion, many facts, figures, and "firsts" will be in review for this 2014 edition. What better way to take in all of this information than to put it all together in an easy to follow and all around visually stimulating infographic? Well, DishTVSignUp.com, in partnership with WorldCupBrazil.net, have done just that. Their graphic highlights many of the most notable events that took place over the course of the 64 matches. It takes readers, both soccer novices and long-time fans of the sport, through the action from the first round to the finals.
With a wide public reach and large audience, DishTVSignUp.com is always striving to publish content that is both interesting and informative to their fan base. In the hopes of increasing engagement amongst new and returning visitors of the site, this information is being released as a means to bridge a gap between those familiar with the game and those wanting to learn more about the buzz that was generated from the 2014 FIFA World Cup. Visitors to their page can spend time learning about the 2014 World Cup and rehash some of their favorite moments.
The information presented is of particular interest in that it offers readers a glimpse into what sets the World Cup apart from any other sporting event. "This World Cup had a few firsts, some new and broken records and some bizarre moments. This infographic is one place where all those important moments are highlighted." - stated World Cup contributing content writer, Jovel Johnson. "What I like about it is that you can relive moments or learn something completely new. This will cover all bases." Aside from this year's match-ups making history due to the many first-time events that occurred, the World Cup as a whole plays a huge part as an institution in the lives of many sports fan. These fans can get their fill of the 2014 games in a concise, fact- packed graphic.
This is now DishTVSignUp.com's fourth published infographic, of which three are World Cup themed. Their first is a timeline of the history of TV and their second and third are identical versions of the history of the World Cup; one in English and one in Spanish. "Like many businesses, we were eager to take advantage of the attention this event was getting but we were more interested in creating something truly engaging and unique. That is why we decided to publish one more graphic even though the hype is over." SEO Coordinator, Brigitte Mina, says of the piece. It will be made available to viewers on the Dishtvsignup.com blog indefinitely and will eventually become a part of history to follow the previous 19 tournaments. This graphic will stand to house the most important features of the 2014 World Cup for future generations to refer to.
About DishTVSignUp.com
DISHTVSignup.com is a top authorized retailer of DISH TV satellite systems. Additionally, they provide information on all things product, industry, news, and programming related for DISH and its current technology via their blog and Facebook page.
About WorldCupBrazil.net
Worldcupbrazil.net is the unofficial World Cup and Euro Cup guide. Stay up to date with the latest developments and become an expert in the World Cup and Euro Cup universe!