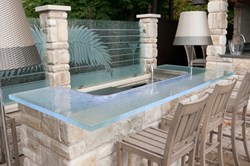 Because glass is non-porous and requires no sealant, it is an intelligent choice for use in an outdoor kitchen.
(PRWEB) January 29, 2014
More and more people are expanding their living space by transforming the outdoor space into something cozy and luxurious. The logic behind this expansion is that being outside is great but the sofa inside is a lot more comfortable! The new trend is to recreate the comfort and luxury of the living room and kitchen in an outdoor setting. ThinkGlass has the perfect material, knowledge and expertise for this trend, and their new line of outdoor creations proves it.
A 2013 Residential Landscape Architecture Trends survey (Survey Identifies Top Outdoor Living Trends For 2013, 2/19/2013) conducted by the American Society of Landscape Architects shows that American homeowners are increasingly drawn to spending more time in outdoor rooms. Usually done in a sustainable and low-maintenance design, these outdoor living spaces are both for entertaining and relaxation.
ThinkGlass is a beautiful sustainable, fully recyclable material that also contains recycled glass. The non-porous and hygienic quality of glass contribute in safeguarding people's health and well being.
It is also low-maintenance; requiring only a soft cloth, warm soapy water or glass cleaner to make it shine. The glass made at ThinkGlass is also absent of VOC and made in an eco-friendly environment.
They are naturally resistant to scratches, mold and mildew, and can endure high heat without cracking or scorching. Because glass is non-porous and requires no sealant, it is an intelligent choice for use in an outdoor kitchen.
When glass is crafted to the proper thickness – a minimum of 1.4 inches – it becomes as hard as stone. In terms of design and beauty, there is a lot more that can be accomplished with glass than with granite or marble. The extreme durability of ThinkGlass' glass countertops, along with their textured finish that hides fingerprints and smudges, makes them an ideal choice for any outdoor living area.
ThinkGlass' new product line is perfect for outdoor living applications: glass kitchen countertops, glass bars, glass coffee table or glass patio table. Scorching heat and freezing cold will not alter the glass. For the artistic applications, the sun will not fade the colors or change the glass in anyway. Glass is a wonderful material and under the mastery of Michel Mailhot it becomes something ethereal, luminescent and also permanent. Glass will not change under sunlight, with age or exposure to the environment.
ThinkGlass invites you to relax and enjoy your life outdoor in the comfort and beauty of the indoor amenities.
About THINKGLASS
The ThinkGlass story began in 1999 in an empty room under the leadership of two creative individuals who were passionate about beautiful glasswork. Today, the company is one of the most successful glass design and manufacturing studios in the world with a shop that encompasses more than 30,000 square feet, 27 employees and 21 state-of-the-art, custom made ovens.
ThinkGlass is still headed by its two original founders – glass master Michel Mailhot who is the artistic soul of the company, and Bertrand Charest, a certified engineer and company president. Together with their talented team, they produce all manners of glass masterpieces, from residential kitchen to bathroom vanity countertops and backsplashes to fantastical sculptures, wall murals and floor tiles, and even large-scale commercial projects for restaurants, nightclubs and offices.
ThinkGlass quickly became a leader in the thermoforming industry by pioneering a versatile technique that allows the creation of new or repetitive textures. This process allows the creation of glass slabs without thickness constraints opening the door to all kinds of design possibilities. All ThinkGlass creations are made from 100% recyclable glass using sustainable practices and without the use of any adhesive or sealant potentially containing harmful volatile organic compounds (VOCs).
For more information about ThinkGlass products, visit thinkglass.com or call 1-877-410-4527.