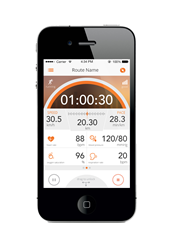 Biel/Bienne, Switzerland (PRWEB UK) 31 December 2013
SensoTRACK™ is worn on the ear and allows the monitoring of vital signs on smart phones or remotely over the cloud-based services, and is built on several highly advanced sensors. It is a miniature mobile device allowing to monitoring vital signs and several physical activity parameters while the user is on the move. What differentiates SensoTRACK™ from competing products in the market for mobile health and activity monitoring - is its ability for cuff-less tracking of blood pressure and respiration rate in addition to all the other 'popular' monitored parameters. With this unique capability SensoTRACK™ provides exciting new possibilities for monitoring and improving training regimes. Worldwide, the wellness, and sports communities are eager to adopt new devices that enable a tracking of physical activities and provide monitoring capabilities and positive feedback, and as additional benefit guiding the user for a better wellness and performance achievement.
SensoTRACK™ is different from other health monitoring products because it tracks a whole range of parameters that combined provide a unique and individual feedback on personal performance and fitness. SensoTRACK™ was first demonstrated at the World Medtech Forum Lucerne in September 2013, in Switzerland, by our team.