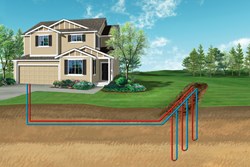 Indianapolis, IN (PRWEB) January 28, 2014
A geothermal heat pump uses the constant below ground temperature of soil or water to heat and cool your home and usually consists of two components: an inside unit known as a heat pump that pumps air to and from the home, and an outside unit known as the ground loop which absorbs heat through a series of pipes underground.
Although the cost of purchasing and installing a residential Geothermal Heat Pump (GHP) system is often higher than traditional heating and cooling systems, the system quickly pays for itself with lower operating and maintenance costs, and lower utility bills. But before purchasing or installing a geothermal heating system, there are many things to consider. Home Comfort Geo, a network of dealers serving areas of Illinois, Indiana, Kentucky and Missouri, recommends that when choosing and installing geothermal heating Taylorville homeowners follow these tips*:

Look for the Department of Energy (DOE) and Environmental Protection Agency (EPA) ENERGY STAR label, which indicates that the unit meets ENERGY STAR criteria. Manufacturers of high-efficiency GHPs voluntarily use the label on qualifying equipment and related product literature.
Search for a GHP equipped with a device called a "desuperheater" which can heat household water. In the summer cooling period, the heat that is taken from the house is used to heat the water for free. In the winter, water heating costs are reduced by about half.
Evaluate your site for geological, hydrological and spatial land characteristics. These factors will help your local supplier/installer determine the best type of ground loop for your site.
Find a qualified installer by contacting your local utility company, the International Ground Source Heat Pump Association, or the Geothermal Heat Pump Consortium for listings of qualified installers in your area.
For more information about the benefits of geothermal energy, visit http://www.homecomfortgeo.com.
About Home Comfort Geo:
Home Comfort Geo is the leading source for geothermal statistics, technology, and innovation. Our dealers proudly serve residents throughout Illinois, Indiana, Kentucky, and Missouri.
*Source: U.S. Department of Energy, http://www.energy.gov.