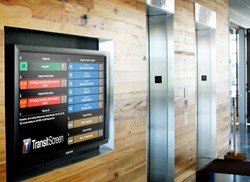 We are excited about the progress towards our goal of making the TransitScreen service available in all regions in North America that have open transit data by the end of 2015." Matt Caywood, President of TransitScreen
Washington, DC (PRWEB) December 31, 2013
TransitScreen officially announces the expansion of service to three new regions in North America. In addition to the nine current regions, TransitScreen will now be available in the Atlanta, Minneapolis and Seattle regions. The TransitScreen service provides a live, real-time display of all transportation options at a specific location (including rail, subway, bus, train, bikeshare, and carshare).
"Following the success of the most recent expansion, this was an obvious next step for our company. Thanks to the great work by our development team, TransitScreen is now available in 12 regions in North America, with an expansion to at least three more regions planned for early 2014. We are excited about the progress towards our goal of making the TransitScreen service available in all regions in North America that have open transit data by the end of 2015," commented Matt Caywood, President of TransitScreen.
In Atlanta, TransitScreen will display real-time information for MARTA rail and bus services. In the Minneapolis region, Metro Transit bus, light rail and commuter rail and Nice Ride bike share will be displayed. In Seattle, King County Metro Transit bus and rail, Community Transit, Intercity Transit, Pierce Transit, Sound Transit and numerous other local agencies will be displayed, as well as Puget Sound Bike Share upon its 2014 opening. In addition, each region will have the option to include carsharing and ridesharing information, along with any other transit agencies or systems that support open data.
There has been a recent surge in people wanting to be more multimodal in their transportation use, and less dependent on single-occupancy vehicles, and cities throughout the world are adapting to those needs. TransitScreen has been partnering with state local government agencies and business improvement district organizations to help promote and inform potential passengers of the available transit options in their area. TransitScreen also benefits commercial and residential buildings looking to improve their building to qualify for LEED status.
"As TransitScreen continues to grow, we are able to expand our service to more cities throughout North America. These three cities were strategically chosen through demand from both the partnering transit agencies and clients. Each of these new regions support multimodal transportation, and the transit agencies provide open transit data. We are currently accepting applications for Regional Managers to handle sales and customer relations in each of the new regions we have expanded to, along with several of our current regions," stated Ryan Croft, Vice President, Business Development of TransitScreen.
TransitScreen is now available in the Greater Washington DC Area, the San Francisco Bay Area, Atlanta, Boston, Chicago, Los Angeles, Minneapolis, New York City, Portland, Seattle, Toronto and Vancouver.
About TransitScreen
TransitScreen is a privately held transportation software and digital signage company and a pioneer in providing real-time transit information displays. The TransitScreen service is a live, real-time display of all transportation options at a specific location (including subway, bus, train, bikeshare, and carshare). Founded in 2012, TransitScreen makes transit information more accessible, viewable and engaging so that commuters, visitors, residents and employees can make informed transit decisions. TransitScreen is a Transportation Demand Management (TDM) solution to create sustainable, walkable, bike-able cities of the future and inform citizens, promote behavior change, and reduce parking and traffic on city streets. Today, thousands of people live and work in institutions, organizations, companies and shops displaying our multimodal transit information. Visit http://www.transitscreen.com, or follow TransitScreen on Twitter (@transitscreen) and facebook.com/transitscreen.